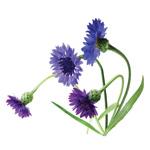 Cornflower floral water
It is worth visiting Latvia in the middle of the summer to see the blue and vast cornflower fields with your own eyes. As far as the eye can see, you see meadows filled with fine, light blue flowers! Cornflower floral water cleanses and calms, and helps even out small wrinkles to make your eyes sparkle.
There are no products matching the selection.