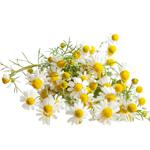 Camomile flower
Camomile flowers are a rich source of essential oils, known for centuries for their highly soothing and healing properties.
Camomile soothes and calms the skin and is suitable for even rough and irritated skin care. Camomile makes the face skin smoother and cleaner. In hair care, camomile strengthens hair roots and improves health of the scalp.
There are no products matching the selection.