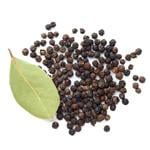 Black pepper essential oil
Black pepper is obtained from green, unripe berries of the pepper plant, which are dried in the sun for several days until they resemble the black pepper grains we all know. Essential oil is extracted from grinded pepper grains by steam distillation. Its warm, strong spicy aroma brings you warming and rejuvenating sensations.
There are no products matching the selection.