Wild rose extract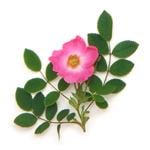 Rosa Rugosa is a wild rose native to Eastern Asia, however nowadays it widely blossoms in the area of temperate climate zone of the northern hemisphere. This rose is a dense suckering shrub with short prickles, corrugated leaflets and delicately ruffled petals. It is a costal plant often growing on sand dunes. It purposefully adapts to ever-changing weather conditions and protects itself from the unpredictable costal winds. Rose can withstand periods of dryness and the elements of the wilderness, again and again coming into bloom as the spring comes.
Due to the beneficial properties this very rose possesses, we have added the wild rose flower extract to the composition of the moisturising skincare products created by STENDERS for deep and powerful care of your beauty.
Rose flower extract is obtained from rose buds and it possesses skin moisturising and soothing properties, therefore it effectively cares for even particularly sensitive and mature skin. It deeply softens, leaving the skin feeling smooth and supple allowing you to feel its rose petal tenderness in each touch.
More info