Walnut shell powder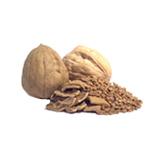 Wallnuts (lat. – Juglans regia) are native to the region of Central Asia and Asia Minor. These deciduous trees reach the height of 25 to 35 m and have a bright and dense foliage. The seeds or nuts of this tree so well known all around the world are not only delicious, but also rich in valuable proteins, vitamins, fatty acids and minerals.
These nutrient-rich nuts are a source of valuable oil, however we have supplemented our cosmetics with the crushed nutshells useful for deeper skin cleansing.
Walnut shell powder is a natural exfoliator widely used in facial and body peeling products. The fine scrubbing particles ensure gentle and skin-sparing cleansing, helping clear away the old cell layer, leaving your skin feeling purified, pleasantly smooth, and radiant.