Menthol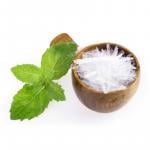 Menthol is an organic, crystalline and easily evaporating compound, one of the compounds of peppermint essential oil with the distinctive peppermint scent. Menthol is widely used in cooking, as well as in cosmetics and perfumery.
Menthol stimulates your skin's cold receptors as a result you feel a pleasantly refreshing and cooling effect. Added to cosmetic and skincare products menthol delivers this chilling sensation to irritated skin thus helping to soothe it and renew its comfort.
Due to its refreshing flavour, crystallized peppermint essential oil is often used in oral hygiene. It helps combat bad breath and can be used in mouthwash and toothpaste.