Green tea leaf extract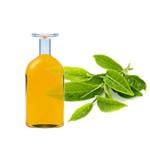 For centuries green tea has been thought to be the key of youth and healthiness in eastern medicine.
The valuable green tea extract is obtained from the leaf of tea tree plant (lat. – Camelia sinensis). Before the extraction, leaves are processes with steam in order to stop the fermentation process. After the fermentation the leaves become suitable for preparing your black tea.
The green tea leaf extract is a valuable source of vitamins and antioxidants. The active ingredients in its composition stimulate the natural protection barrier of the skin against the influences of a modern urban environment, help retain the so necessary moisture level, thus caring for the youthfulness, elasticity and a healthy, radiant appearance.
More info