Evening primrose flower extract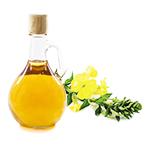 Evening primrose (lat. – Oenothera biennis), called also evening star or sun drop, is a plant native to North America, but nowadays widespread throughout Europe. It blooms with bright yellow blossoms that open up only in the evening or on grey, cloudy days.
The extract from the evening primrose flowers is essential for maintaining skin's elasticity. It possesses deeply soothing, moisturising and softening properties and is therefore especially useful in caring for the daily comfort of dry skin.