Camomile essential oil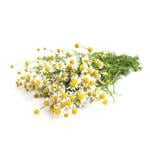 Camomile (lat. – Chamomilla Recutita) has airy delicate leaves and white, daisy-like blossoms. These dainty blossoms in particular are a rich source of an essential oil. The highly beneficial oil is obtained by steam distilling camomile flowers gathers just after coming into bloom in order to preserve a complete bouquet of their valuable properties.
Camomile is one of the most valuable plants in caring for dry and sensitive skin. The essential oil effectively calms and regenerates the delicate skin, helping it retain its beautiful and healthy appearance.
Just as soothing as a cup of tea brewed from these fragrant flowers, camomile essential oil helps you regain your inner harmony.
More info