The collection inspired by the Baltic Sea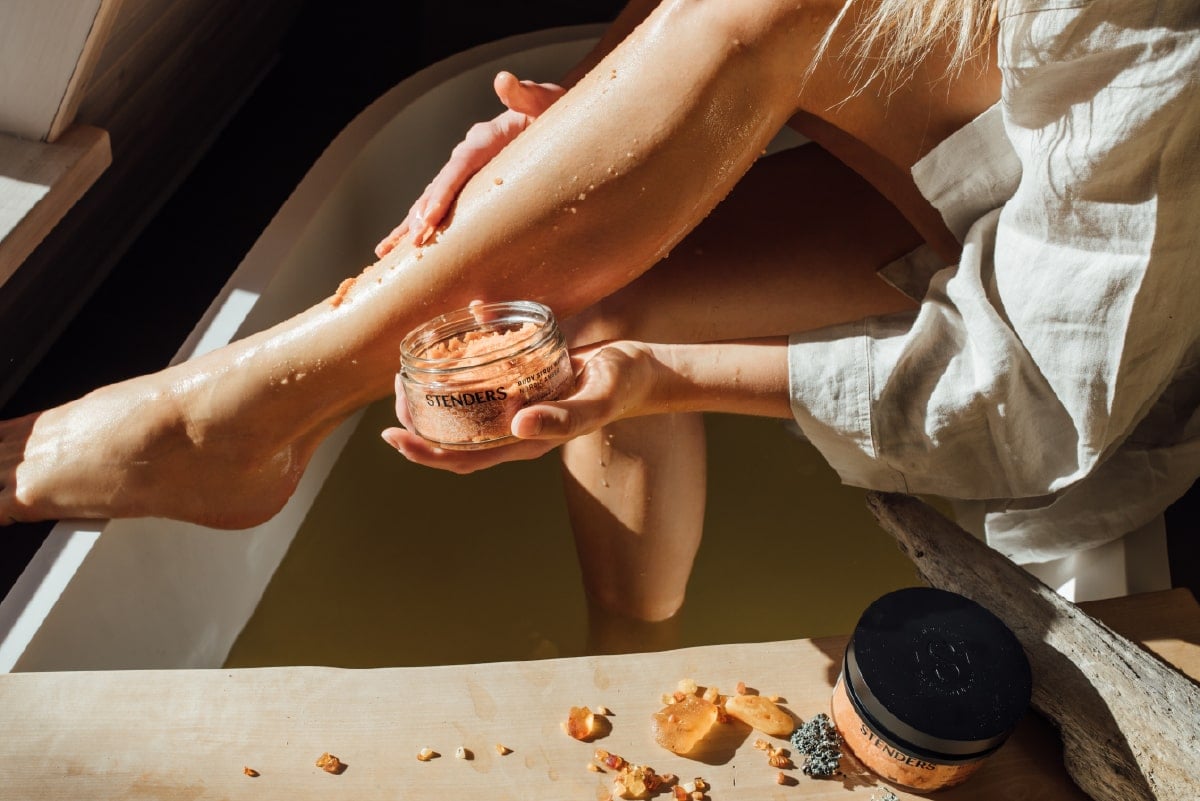 Close your eyes and imagine that little path filled with pine needles and cones to keep you awake whenever bare feet touch the ground. A red berry peeps through the green moss caps, while a ray of sunlight catches through the pine branches and the refreshing air makes it evident that the see is just around the corner. And then, finally, feet touch the warm, white sand and the sea opens up to your view. The sea holds countless treasures, including amber, considered the gold of the Baltic Sea, widely used in beauty care to give the skin a glow and enhance well-being.
Discover STENDERS newest collection, Nordic Amber, which includes a hand-crafted foaming bath bomb, liquid hand soap, bath salt, body scrub with AHA, body gel cream and shower oil.
Ingredients of natural origin
Combining nature and science, this exclusive collection offers high-quality and effectivity products that ensure a sun-filled feeling before and after your bath ritual.
Amber powder
All products in this collection are enriched with amber powder, a real gem for the skin. According to folk healers, crushed amber - amber acid and amber oil concentrate – is the main ingredient in the elixir of youth. In cosmetics, it's often used as a soft scrub suitable for delicate but effective mechanical skin peeling. It contributes to smoothing an uneven skin texture, providing an overall rejuvenating effect. It also removes toxins from the skin. It is considered an effective anti-ageing treatment and beneficial for regenerating skin.
Indulge in the divine glow of amber!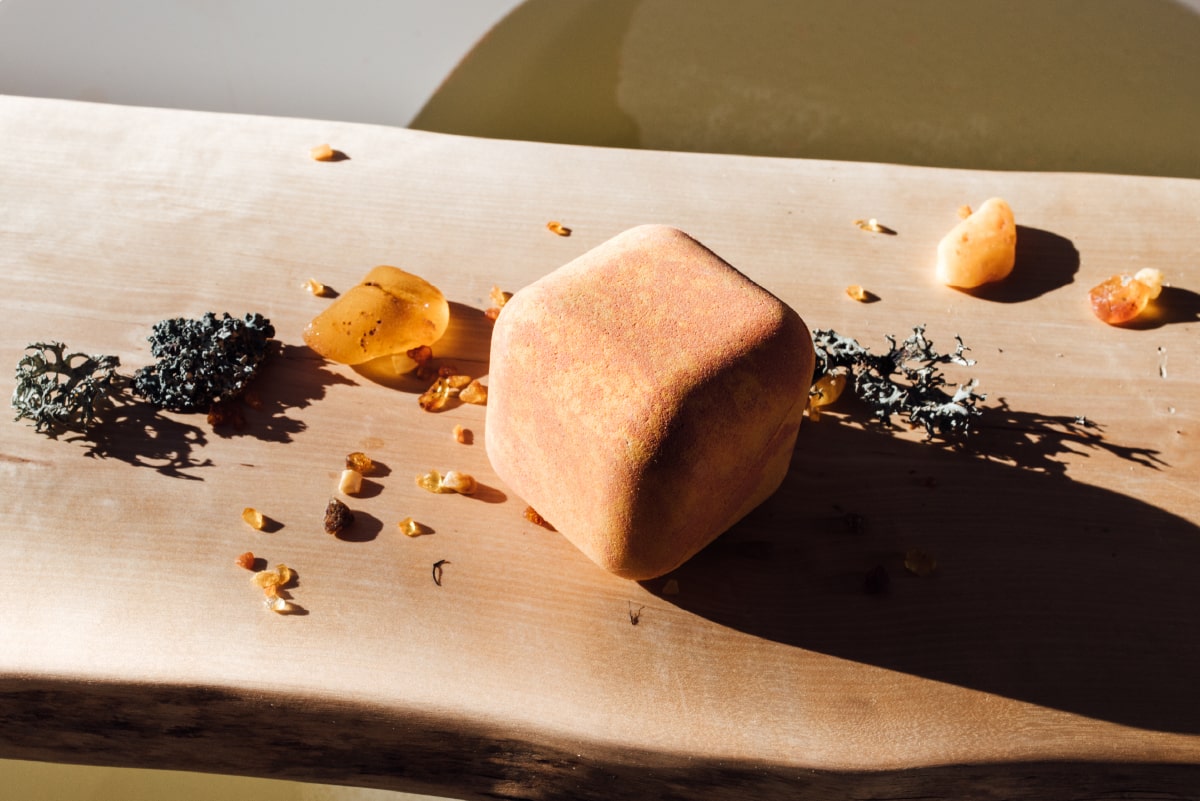 Foaming bath bomb
Hand-crafted cube shape bath bomb in the contour of marvellous amber. It foams up like the warmest waves, wraps you in a cloud of foam, and turns the water orange. Cedarwood, sandalwood, vanilla, and patchouli aromas deliver a pleasant aromatherapy session and leave a summer feeling on your skin. Enriched with nutmeg oil and magnificent amber powder to care for your skin's comfort.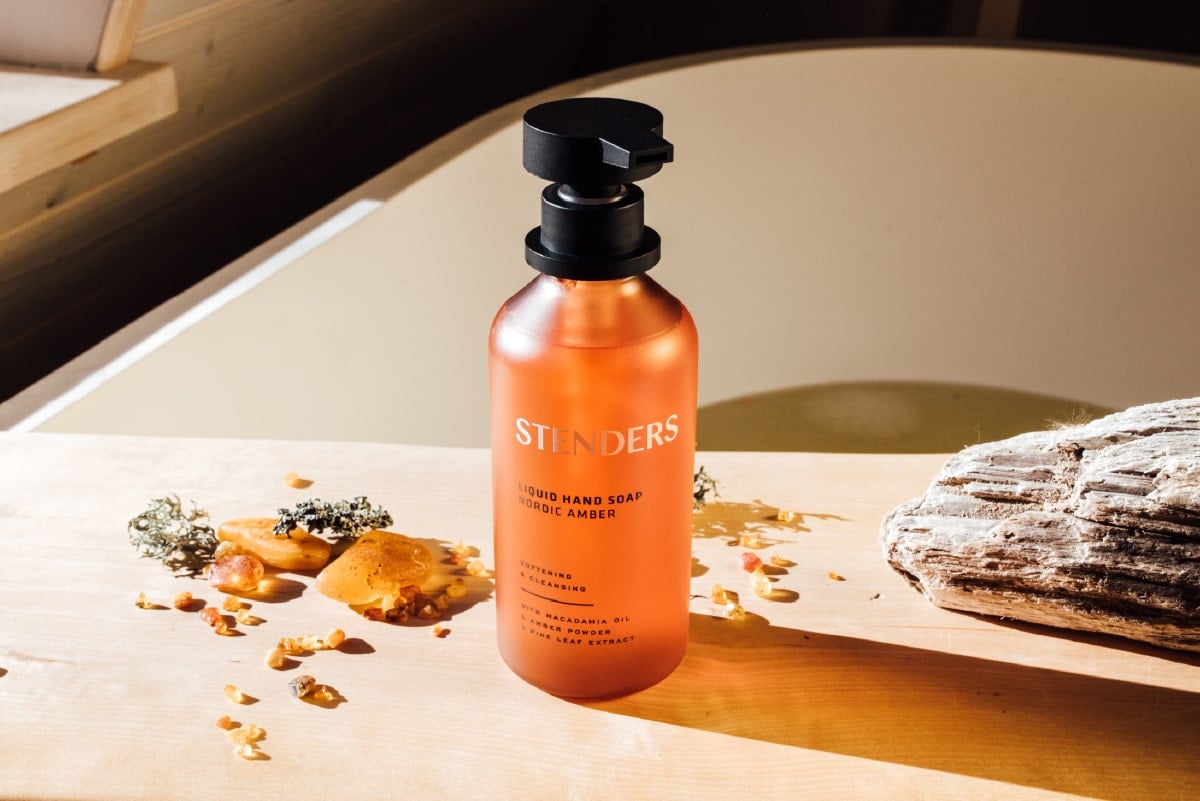 Liquid hand soap
The cleansing soap contains 92% ingredients of natural origin, enriched with amber powder and pine leaf extract, famed for its anti-inflammatory, antimicrobial and wound-healing properties, and macadamia oil to soften and clean your skin. These exquisite exotic aroma notes add a special touch to this seemingly mundane ritual. Non-drying.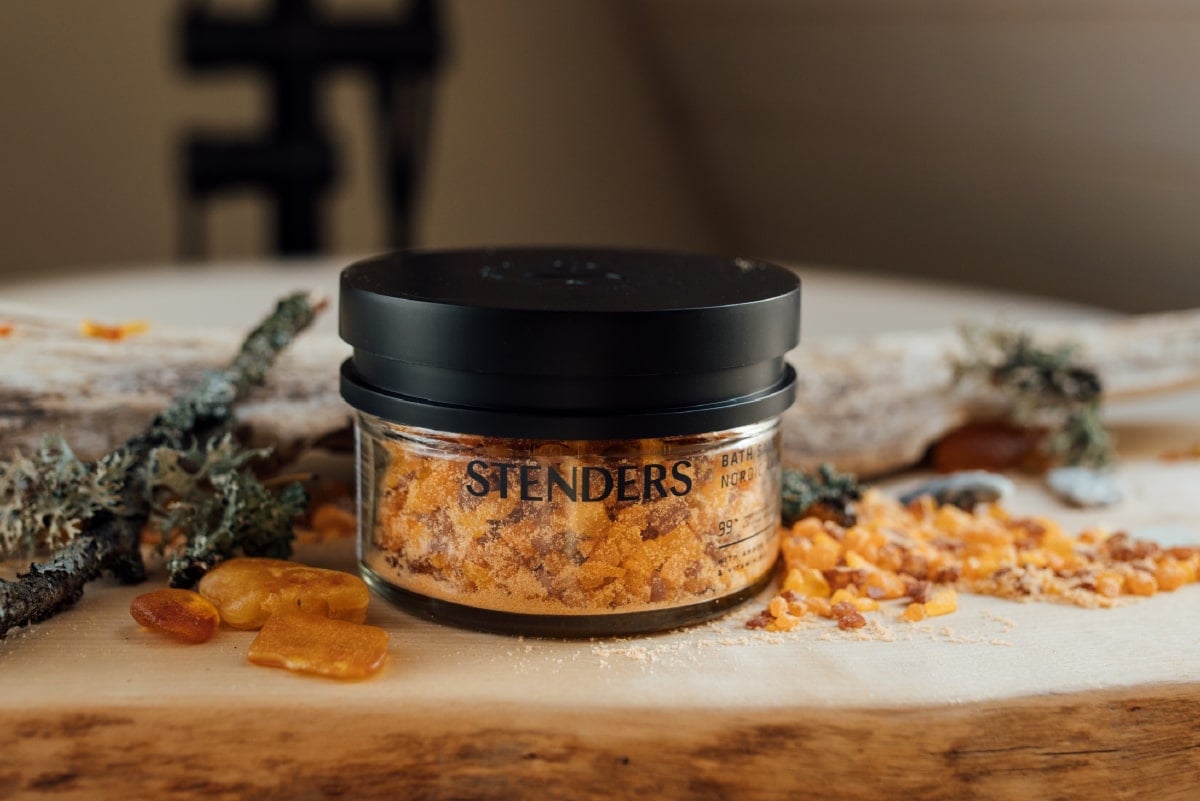 Bath salt
Enjoy a relaxing and aromatic bath ritual! 99% ingredients of natural origin. The added North Sea salt is rich in calcium, potassium and sodium ions, which cleanse the skin and strengthen the nails. Vitamin B2, widely used in beauty products, helps fight the first signs of ageing and has been shown to reduce migraines, so treat yourself with a warm bath on a tiring day. When adding the fragrant salt to the water, it transforms into a shimmering, amber-coloured bath and fills the bathroom with a rich aroma of summer, pine trees, warm waves, and happy memories.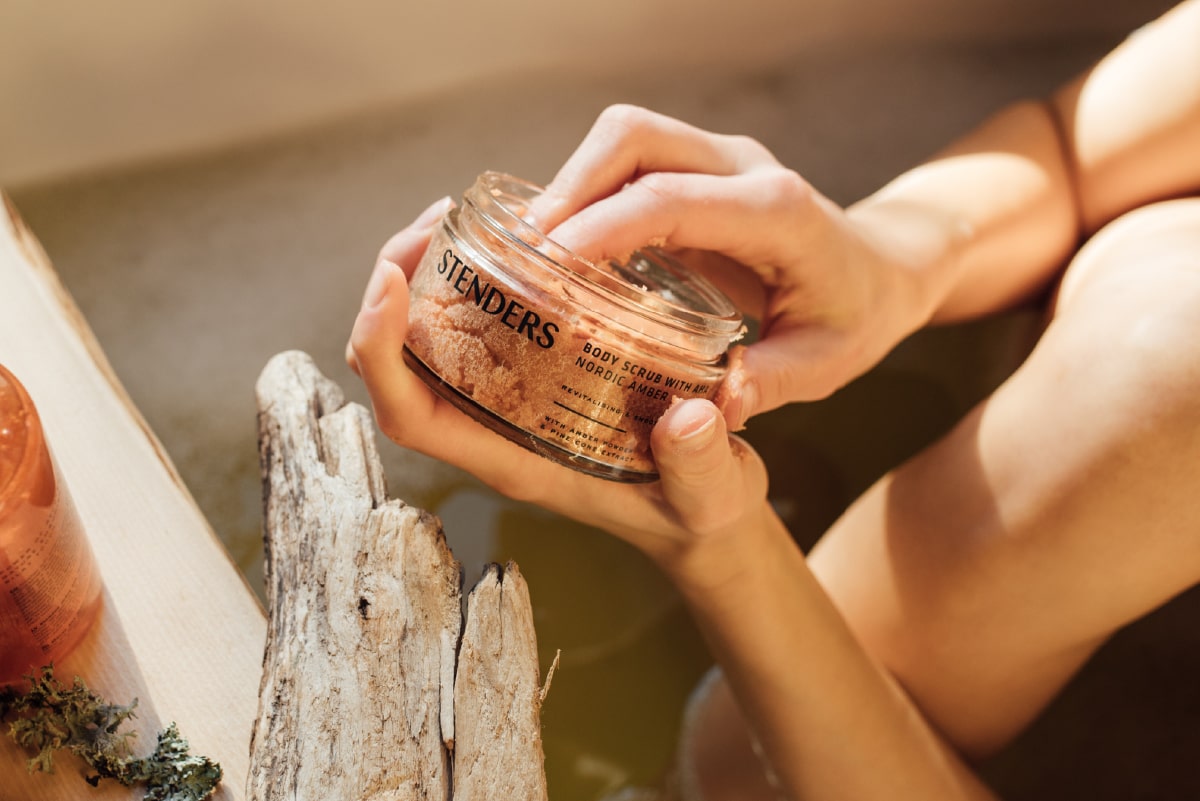 Body scrub with AHA
Sugar body scrub enriched with effective AHA acids, amber powder, pine cone extract, omega 3, omega 6, brown sugar and mango butter. AHA acids give the skin a youthful look and radiance. It cleanses the skin and tightens pores while moisturising and repairing. Omega 3 and 6 restore skin health, protect and provide valuable fatty acids. Mango butter strengthens skin firmness and elasticity. Brown sugar, milder than salt and softer than granulated sugar, helps get rid of dead skin and moisturises it, giving it a radiant glow. Enjoy the exquisite exotic and sun-infused fragrance that will linger on your skin for a long time.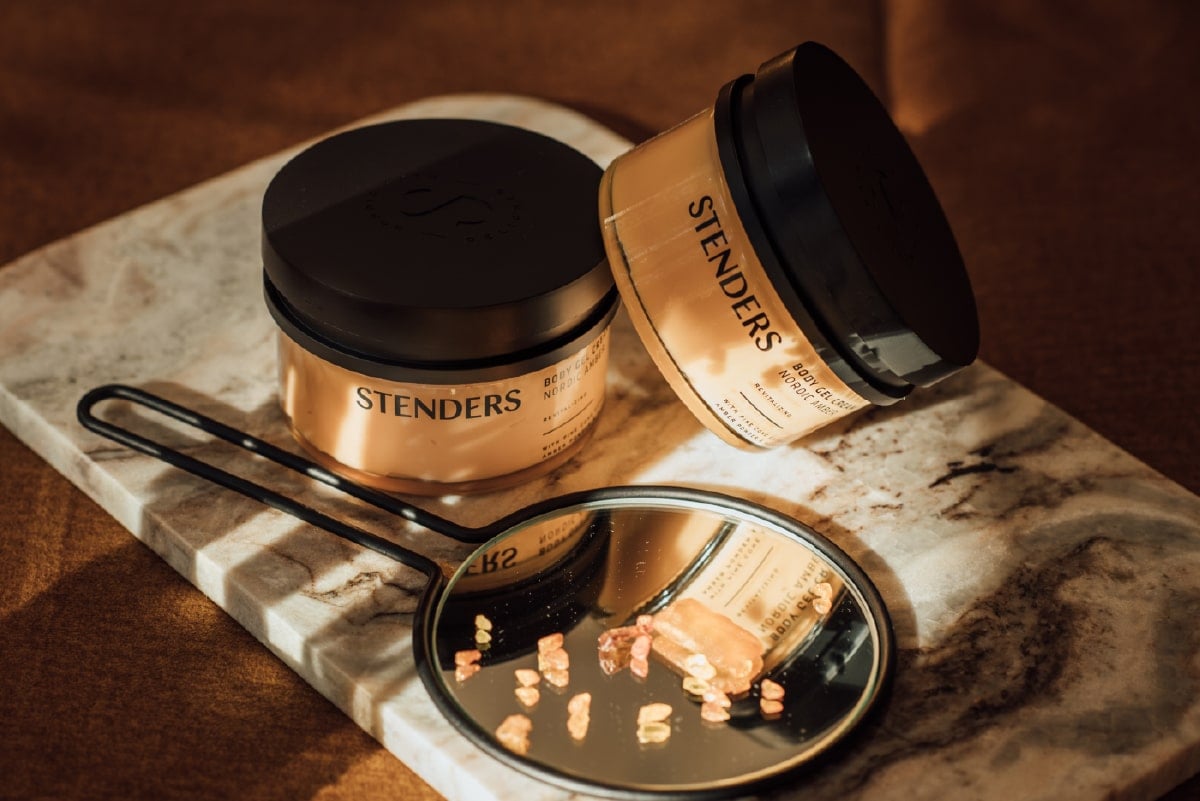 Body gel cream
The lightweight texture turns this pleasant skincare ritual into an aromatic experience. Enjoy the exquisitely exotic aroma, which reminds you of summer, and will linger on your skin for a long time. Amber powder, aloe vera, pine cone extract, and natural sugar complex with hyaluronic acid nourish, moisturise, soften and revitalise the skin. And it's no secret that moisturised skin looks more radiant and younger-looking.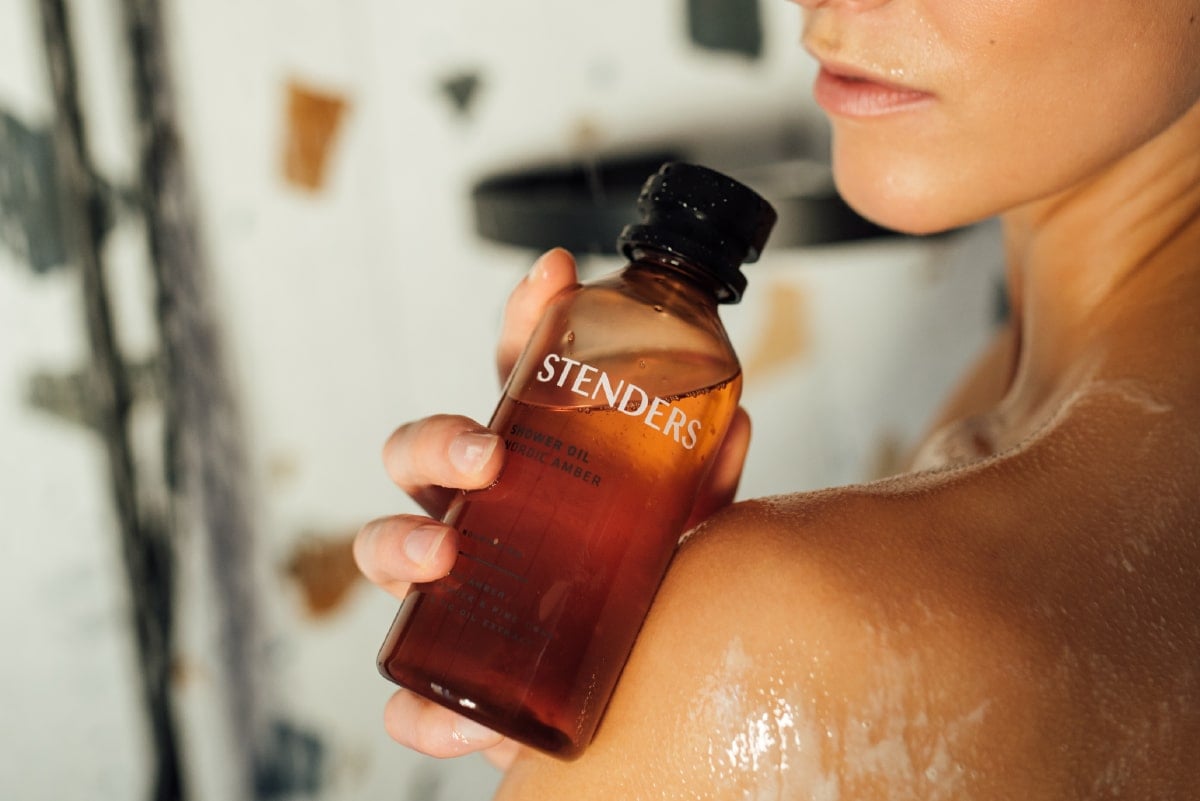 Shower oil
Enriched with amber powder, pine cone extract, macadamia, aromatic nutmeg oils, and fig fruit extract to nourish and soften your skin. Nutmeg oil has an exceptionally calming effect, helping to invigorate the mind and spirit while rejuvenating the skin and cells. Meanwhile, fig extract, which contains omega 3, 6 and 9 fatty acids, provides rich hydration for supple skin. Enjoy how the silky textured oil transforms into a soft, airy foam surrounded by exquisite exotic, musky, spicy and warm aroma.
Let the radiant majesty of nature into your bathroom, forget about the daily rush and let yourself just be.
We believe you will succeed!
Your STENDERS
« Back
---