Sustainable choices in beauty care
Sustainability in everyday life is characterised by a well-thought-out, healthy and environmentally friendly lifestyle, which not only takes care of people's well-being, but also reduces our "environmental footprint". Can beauty care be environmentally friendly? A "greener" lifestyle does not mean you have to throw all the current products away. Experts suggest you start with small everyday items, which will result in more comprehensive choices. Turn off the tap while brushing your teeth, plan out your cosmetics list and purchase more innovative beauty products that are designed to take care of you and the environment.
The STENDERS assortment includes several products that mark the company's well-thought-out choices: solid shampoos and conditioners, convenient bar tins for them, as well as solid perfumes. Have you already tried any of these products?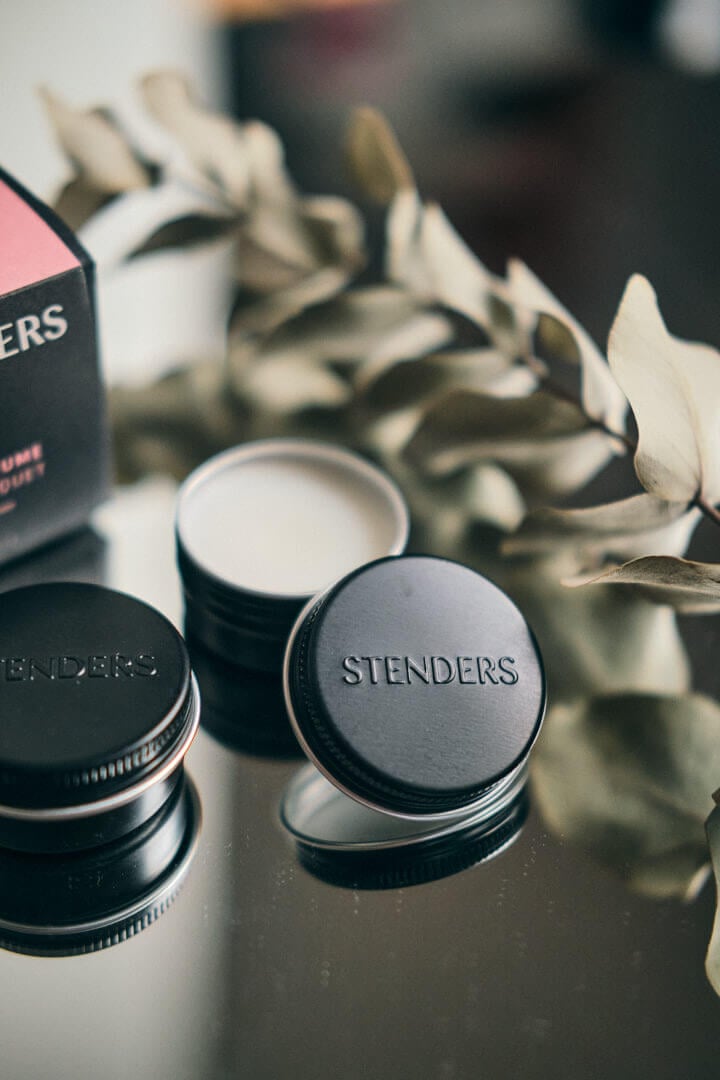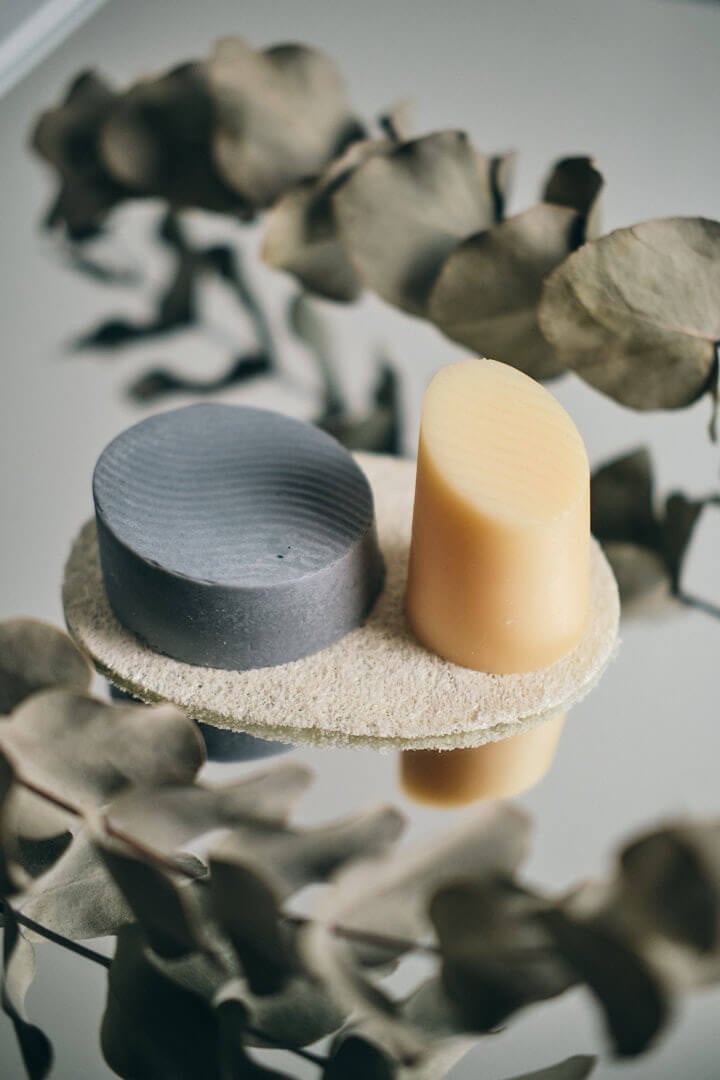 LESS WASTE
Solid shampoos, conditioners and solid perfumes have the same effect as traditional products, but they reduce the amount of everyday waste. When I tried the solid shampoo and conditioner for the first time, I found that the shampoo lasted for three months. During this time, I usually purchase at least three bottles of regular shampoo. While the conditioner replaces two regular bottles. In total, I didn't have to throw out five plastic bottles in three months, which is 20 bottles a year, filling up a whole rubbish bin. In addition, solid shampoos and conditioners are not packaged in plastic, saving additional resources. To ensure comfortable use at home, the set includes a loofah pad, which will protect the products from moisture, but for trips you can buy a special bar tin to store the products so they don't get damaged, and you can continue your sustainability mission.
I am currently trying out the solid perfume, a new product, but I have already concluded that one perfume box lasts significantly longer than traditional perfumes in glass bottles. Glass containers are also one of the most dangerous types of waste in nature, and form a large part of our waste basket. STENDERS supply allows you to choose more sustainable products without sacrificing convenience and elegant aromas.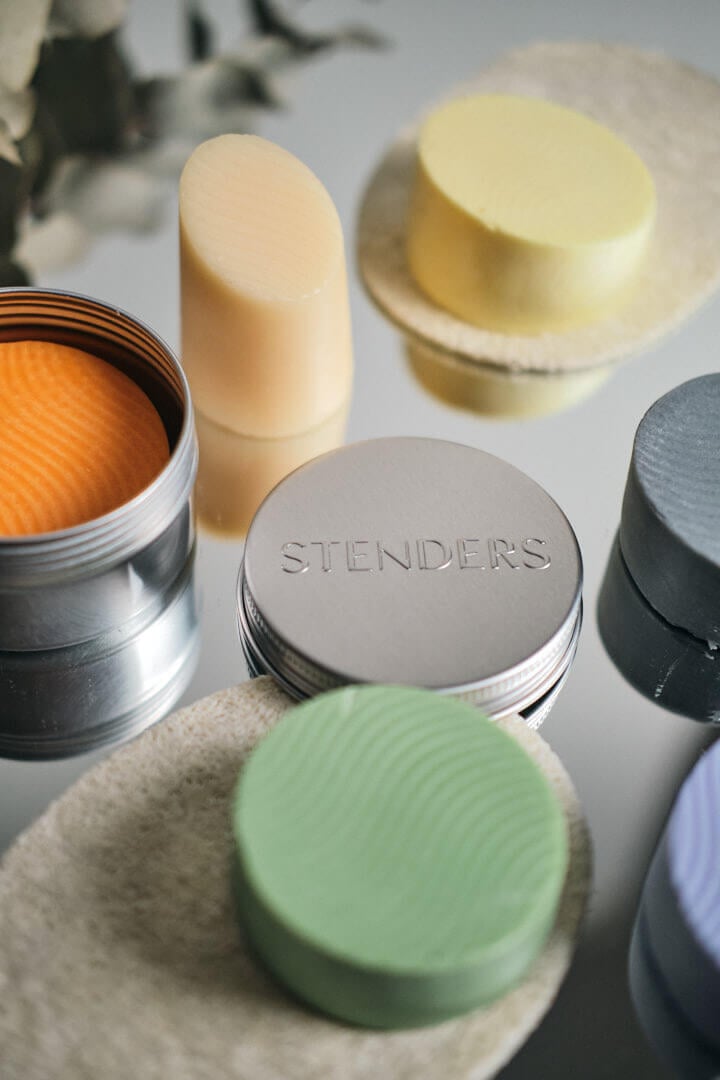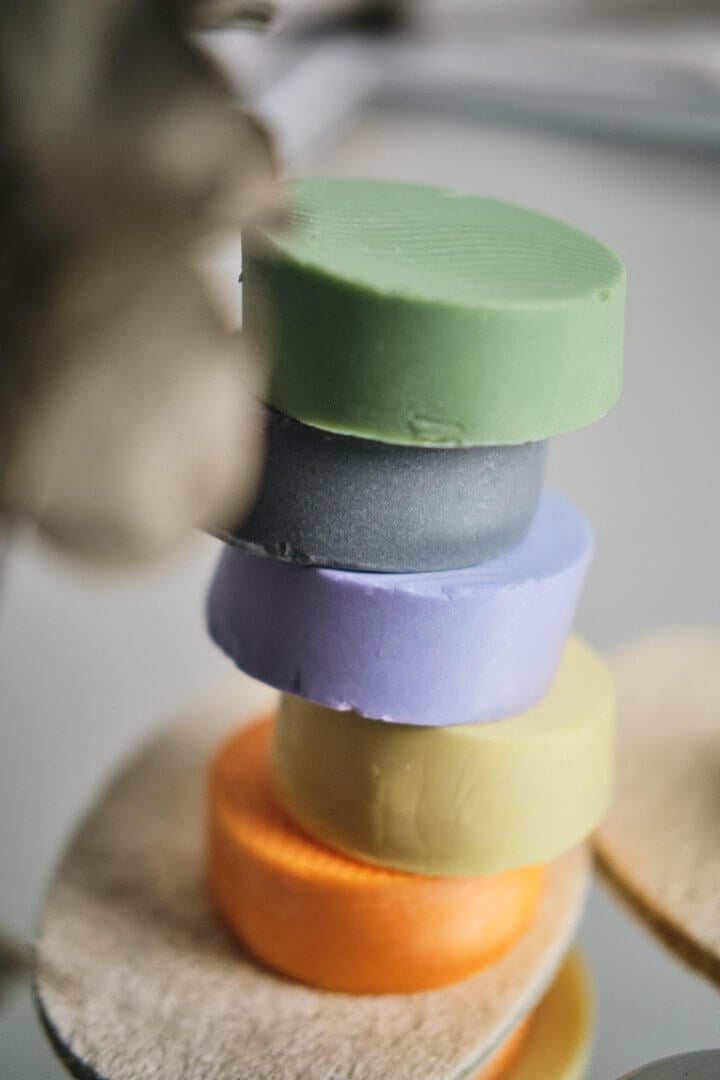 WELL-THOUGHT-OUT INGREDIENTS
Environmentally friendly values are not just about reducing plastic in everyday choices. They also apply to the ingredients in the products, meaning that water consumption is reduced in their production, and they are made from environmentally friendly materials and substances. Water is not used in the production of solid shampoos, conditioners and perfumes, as evidenced by the composition of the products. Statistics show that one of the world's largest consumers of water is manufacturing, including the production of beauty and hygiene products, but by integrating a smart product development strategy, STENDERS continues to reduce its "environmental footprint".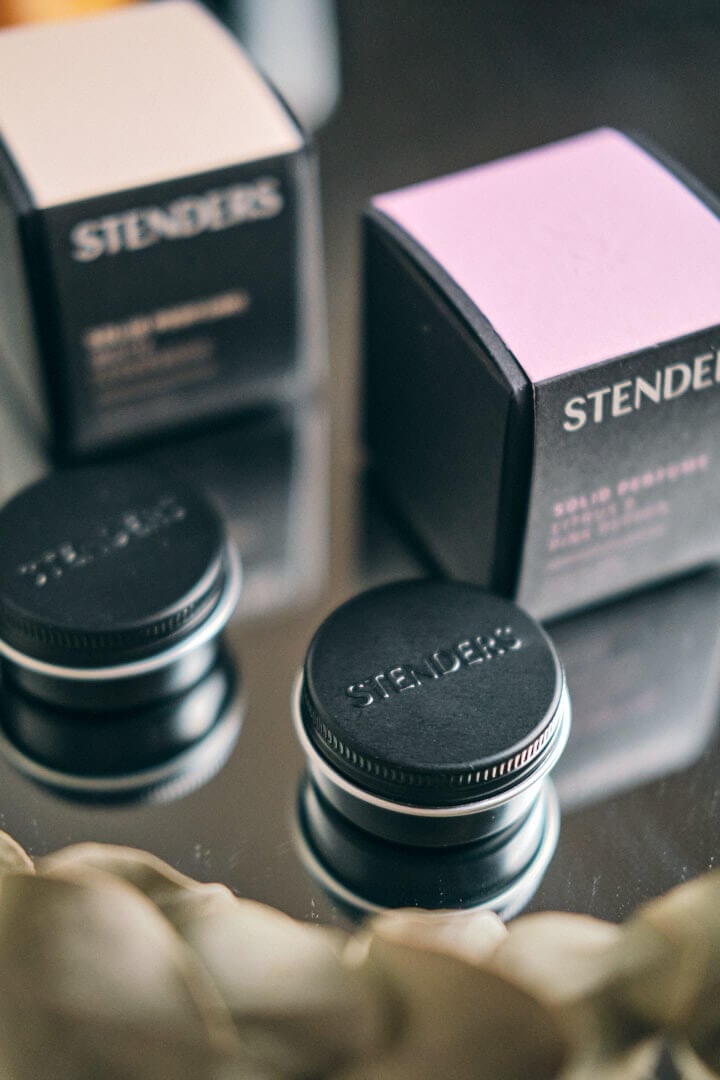 The effectiveness of products is also ensured by environmentally friendly raw materials: hemp seed oil, black pepper extract, apricot oil, argan oil and other ingredients. Choosing ill-considered products can have a significant impact on the environment around us: poisoning drinking water, promoting the overgrowth of water bodies, endangering animals and negatively affecting other processes.
USE EXPERIENCE
Currently my main everyday product is the solid perfume, which I always take with me. I follow the principle of "less is more" by not using too much perfume, but I have noticed that I consume solid perfume even less. I am particularly pleased with two aspects: the first is the compact size, which is in line with my goal of carrying less on a daily basis, and the second is the well-thought-out aromas that surround me in a soft cloud of scents. Currently, my favourites are a mix of jasmine tea, sandalwood & cardamom, which keeps me warm in the cold winter.
Well-thought-out and specially selected ingredients keep hair healthy: strengthening shampoo is supplemented with avocado and hemp seed oils; the effect of the stimulating shampoo is provided by black pepper and truffle extract; balancing shampoo is enriched with clay and blackcurrant extract, revitalising shampoo - with apricot oil and white wine vinegar -, but the moisturising shampoo - with honey and almond oil. The collection includes two solid conditioners: repairing and nourishing. The nourishing one is best for my hair, especially during winter, when hair gets damaged by cold and hot air coming from heaters. I always use conditioner after washing my hair; it maintains the moisture level in my hair and provides intensive care.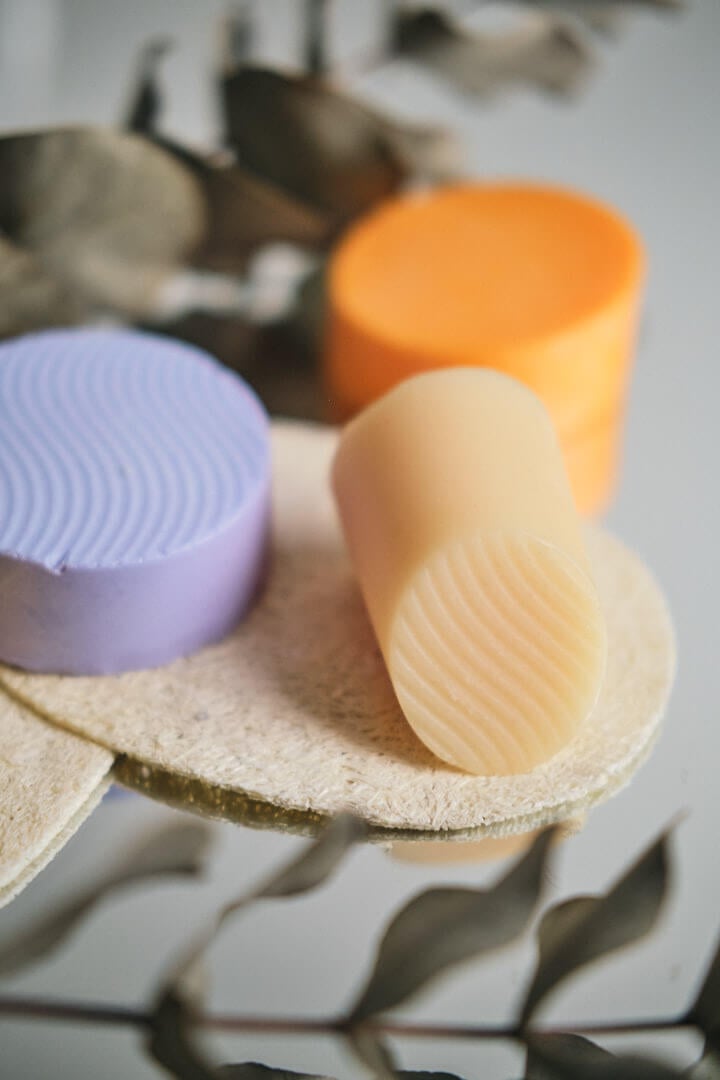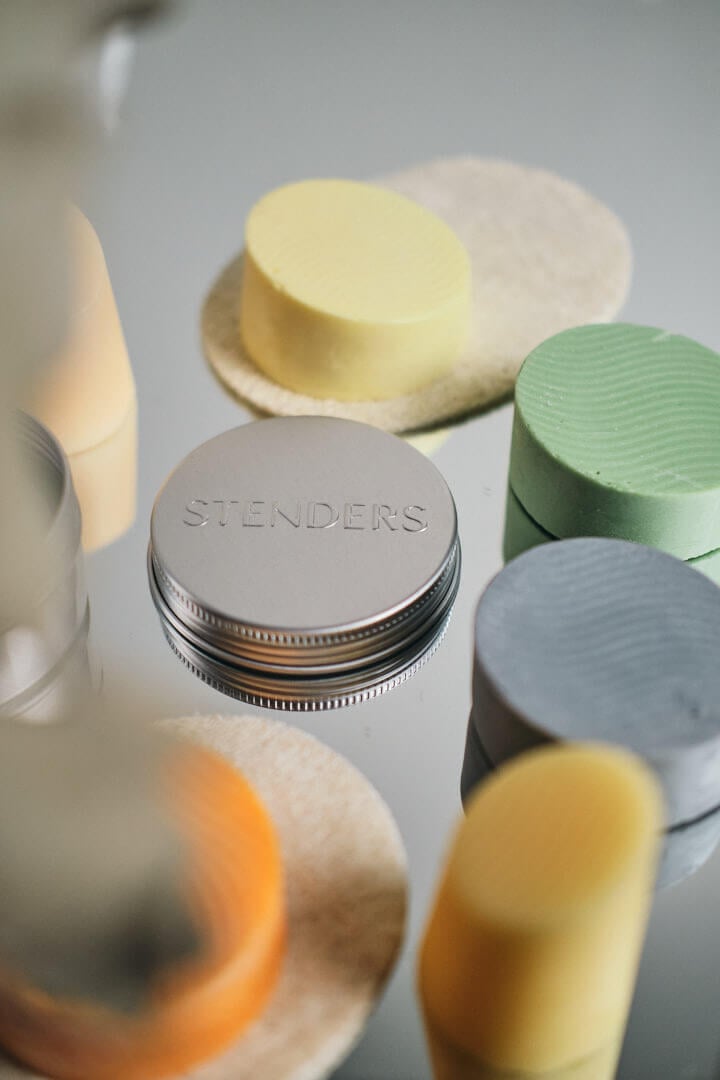 In order to integrate "greener" choices into everyday life, you don't have to radically change all the processes - start gradually. Change your traditional shampoo for a solid one and choose a conditioner as well. Treat yourself and lift your mood with solid perfume aromas. Small changes lead to great achievements!
Written by: Kristīne Šeiko
« Back
---