Nordic nature-inspired care for your smile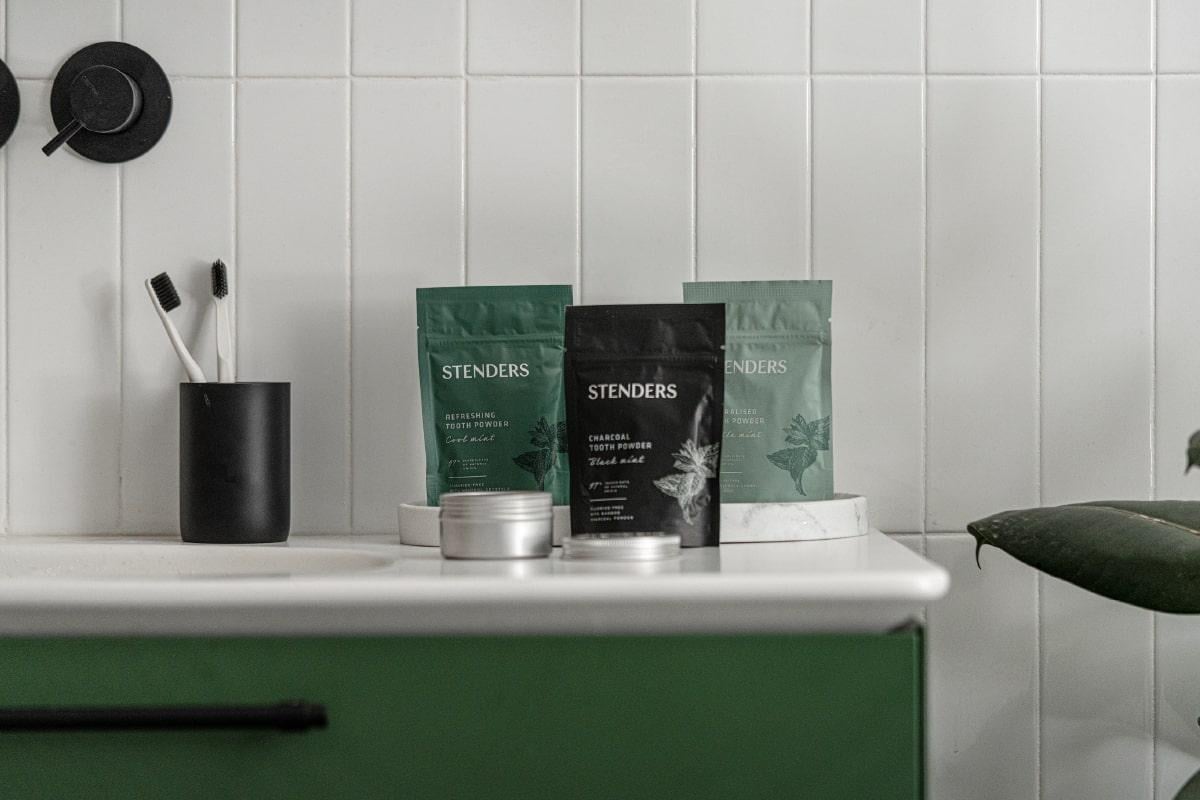 Nordic nature-inspired care for your smile

A smile will save the world, a smile disarms, a smile is love, a smile costs nothing, and a smile prolongs life! These are just some of the expressions about the seemingly simple process representing our character, emotions, attitude, and how we care for ourselves since the smile is connected with simple oral hygiene steps.
Best practices for healthy teeth
Behind every smile is an oral care routine that starts with simple but essential actions in your bathroom in the mornings and evenings.
Brush your teeth at least twice daily ( morning and evening) after meals.
Two minutes! That's how much time you should spend brushing your teeth. To keep up with the time, we recommend putting on your favourite song at least two minutes long. Brush your teeth and move your hips to happily start and end the day.
Your gums will appreciate it if you brush your teeth with a toothbrush with soft bristles.
Remember to use dental floss at least once a day.
Be sure to clean your tongue too.
If you feel the need, you can rinse your mouth after brushing with mouthwash, which is most often used to freshen your breath.
When two minutes have passed and your teeth have been cleaned, look in the mirror and smile at yourself and the world
Tooth powder – a nature-friendly alternative for your daily tooth brushing.
What is tooth powder?
Tooth powder is actually the ancestor of toothpaste. In its day, ash, crushed eggshells, and even animal bones were used with water to freshen breath and clean teeth. Choosing different ingredients today makes it easy to make your own tooth powder at home too.
It is the ideal product for sustainability, functionality, and nature lovers. Thanks to natural ingredients, packaging, and production specifics, it is often considered an environmentally friendly alternative to brushing teeth. In addition, several studies have shown that tooth powder removes plaque more effectively than toothpaste.
How to use tooth powder?
The main difference between tooth powder and toothpaste is that it is dry, which means it needs extra water to clean. Start by moistening your toothbrush before brushing, then gently dip it into the tooth powder container. Ensure that the container in which you store the tooth powder does not get damp, which can affect its quality. It may take a bit of getting used to the texture of the tooth powder at first, but we guarantee that in time you'll be so used to it that you won't want to change it for anything else.
Refreshing, mineralised and charcoal tooth powder
For your dental health, we have created three different tooth powders using natural and effective ingredients to ensure quality and functionality. With sustainability in mind, all STENDERS tooth powders are water-free and contain 97% ingredients of natural origin. Our tooth powders help to restore the natural colour of your teeth and are suitable for vegans and daily use to gently and effectively clean your teeth, caring for your well-being
Refreshing tooth powder Cool Mint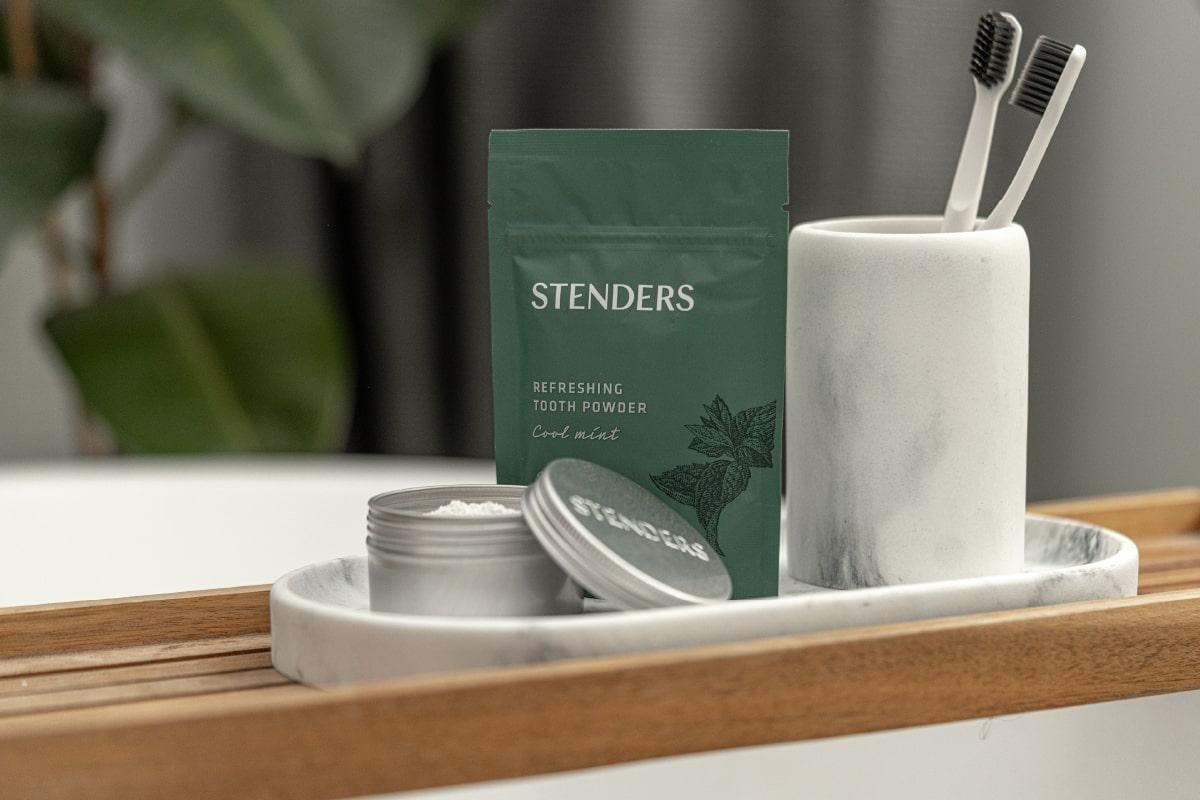 It contains kaolin clay, which has antibacterial properties that help fight bad breath and cavities and improve oral health. The calcium, zinc and magnesium in the clay naturally strengthen teeth. Ionised atomised seawater is also added to the powder, reducing bacteria, balancing pH levels, protecting teeth, and reducing bleeding gums. While peppermint essential oil and menthol crystals ensure fresh breath.
Charcoal tooth powder Black Mint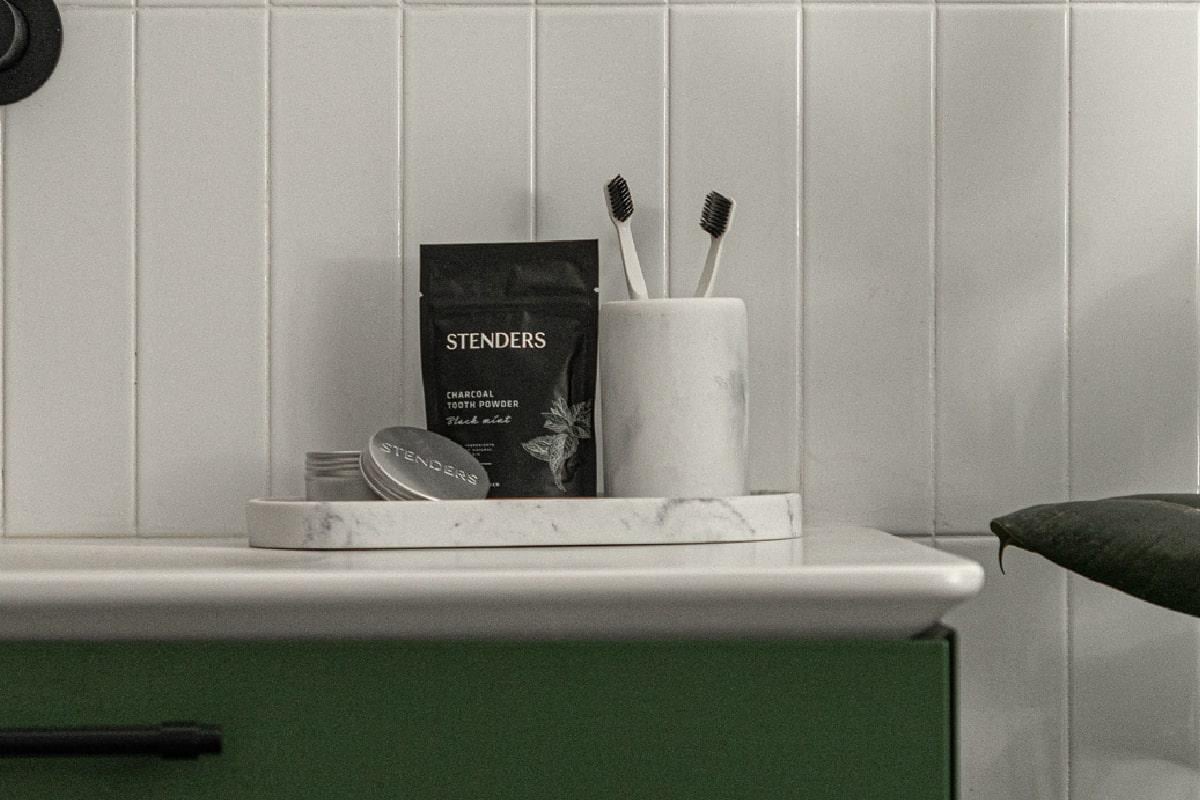 The cleansing properties of bamboo charcoal powder have been appreciated for centuries. Strange as it may seem, looking at its black colour, it is one of the most effective ingredients for whitening teeth. Black pepper is excellent for maintaining oral health thanks to its anti-inflammatory and antibacterial properties. In folk medicine, black pepper is widely used to treat gingivitis or any bacterial infestation in the mouth. The added eucalyptus oil also has antiseptic properties.
Mineralised tooth powder Gentle Mint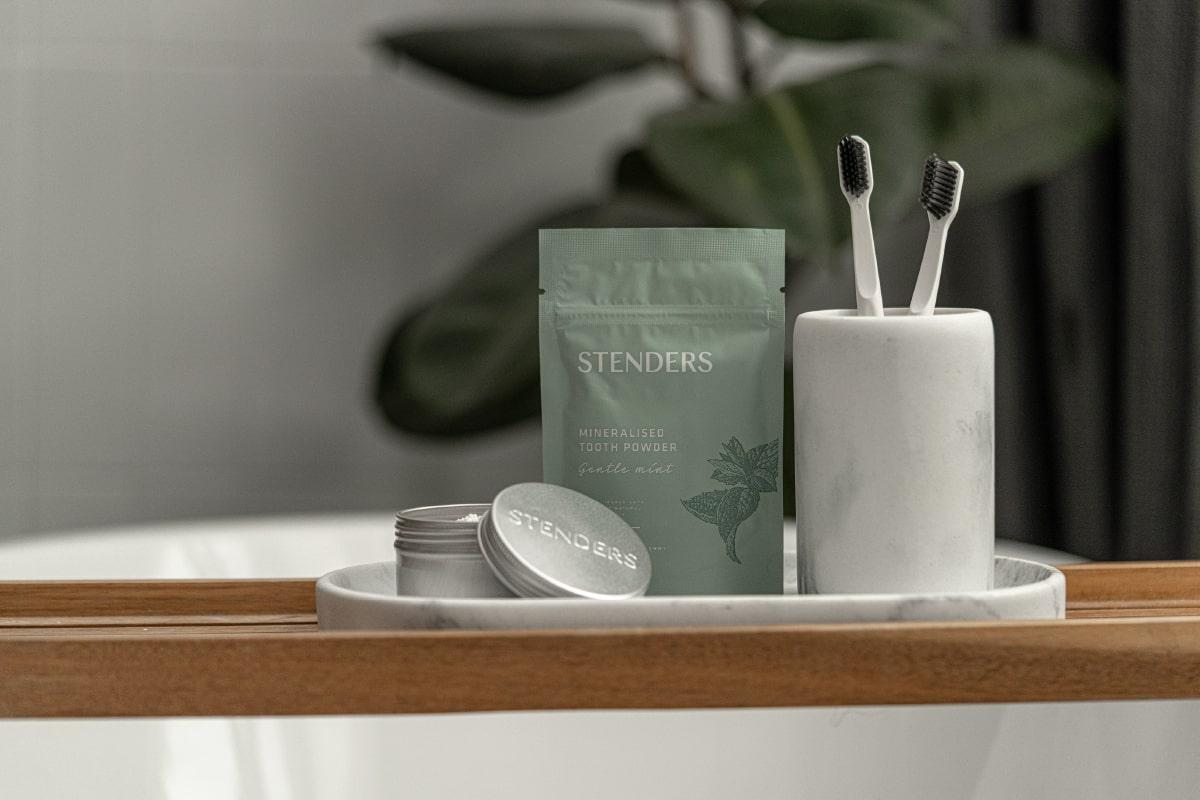 This tooth powder also contains ionised atomised seawater to fight bacteria, peppermint essential oil and menthol crystals for fresh breath. We've also added acerola cherry fruit juice, a powerful antioxidant that helps fight germs, protect teeth from cavities, strengthen gums and prevent infections.
Ergonomic toothbrush and reusable storage container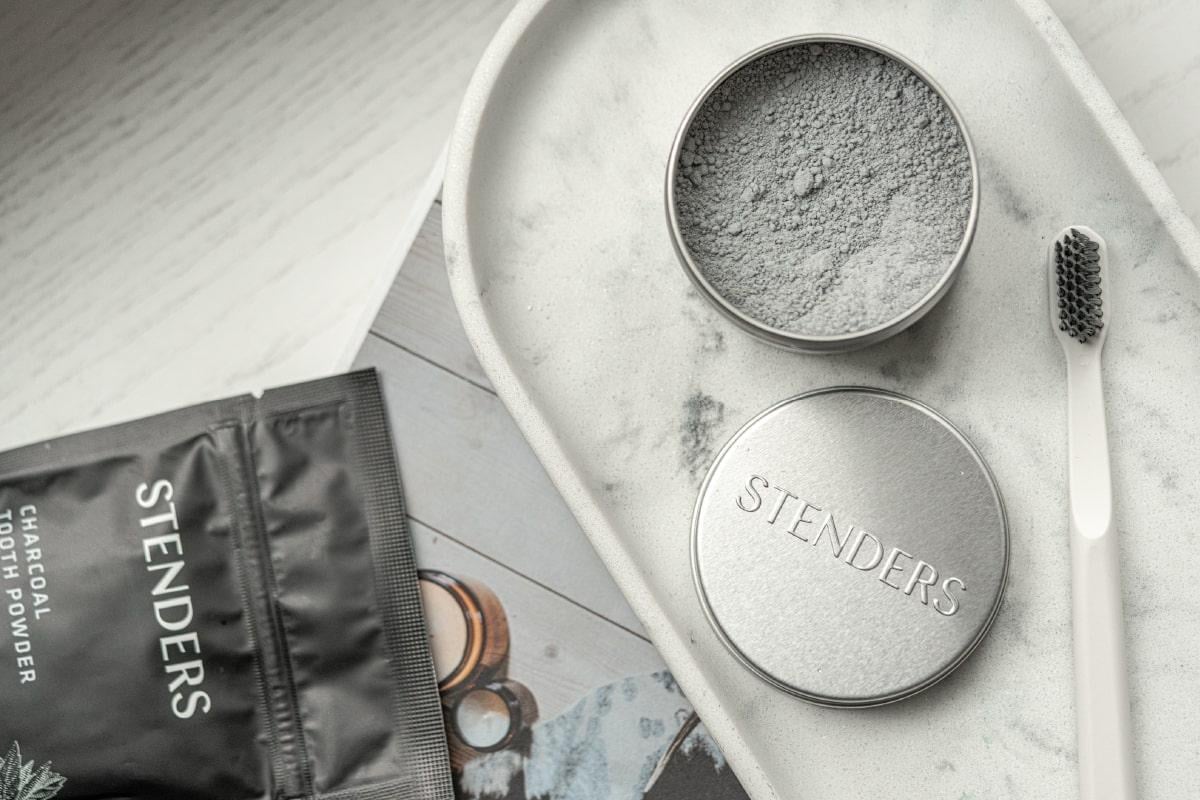 Where brushing is concerned, the toothbrush is indispensable. Experts recommend using a soft-bristled toothbrush for brushing, pointing out that a hard toothbrush irritates the gums, provoking them to recede, which can lead to tooth sensitivity. To take care of your teeth, we have created an ergonomic and extra-gentle bristle toothbrush made of biodegradable plastic. An aluminium container is used for the safe storage of tooth powder.

We are convinced that starting to use nature-inspired products in your everyday life will delight nature and your smile!
Your beautiful smile companion,
STENDERS
« Back
---