New from STENDERS – solid shampoos and conditioners
I have already mentioned several times that I am particularly fond of STENDERS, because it is part of my childhood memories and reminds me ones of the first products of the brand – bath bubble bombs. I believe that companies must also think about new technologies and modern products meeting our current needs, values ​​and global processes. I am delighted I can tell you that, based on its soap and bath bomb production experience, STENDERS offers a completely new product category – solid shampoos and conditioners. No matter how much we don't want to admit it, we don't have a planet B, therefore, each of us have to rethink our daily choices and try to change what we can change. What using new solid shampoos and conditioners will change in your everyday life? You will be able to save your resources and use less plastic, because one solid shampoo replaces up to 3 standard size shampoos packed in a plastic bottle. By choosing a conditioner too, you will protect the nature already from 6 plastic bottles. You will choose products that are friendlier to nature and to you, because shampoos only contain natural ingredients and no preservatives are used in production of the new products. Besides, no water and soap are added.
If you have seen my blog or Instagram profile, you know that I often travel with my partner. Do you know what's another bonus of including solid shampoos and conditioners in your everyday life? It's travel‑friendly, and you won't have to buy these products in travel size anymore, because it is easy to pack them to take with you. More sustainable choices thanks to STENDERS. Isn't that great? I am thrilled, because I am going on the next this year's adventure soon, and I will be happy to take these products with me!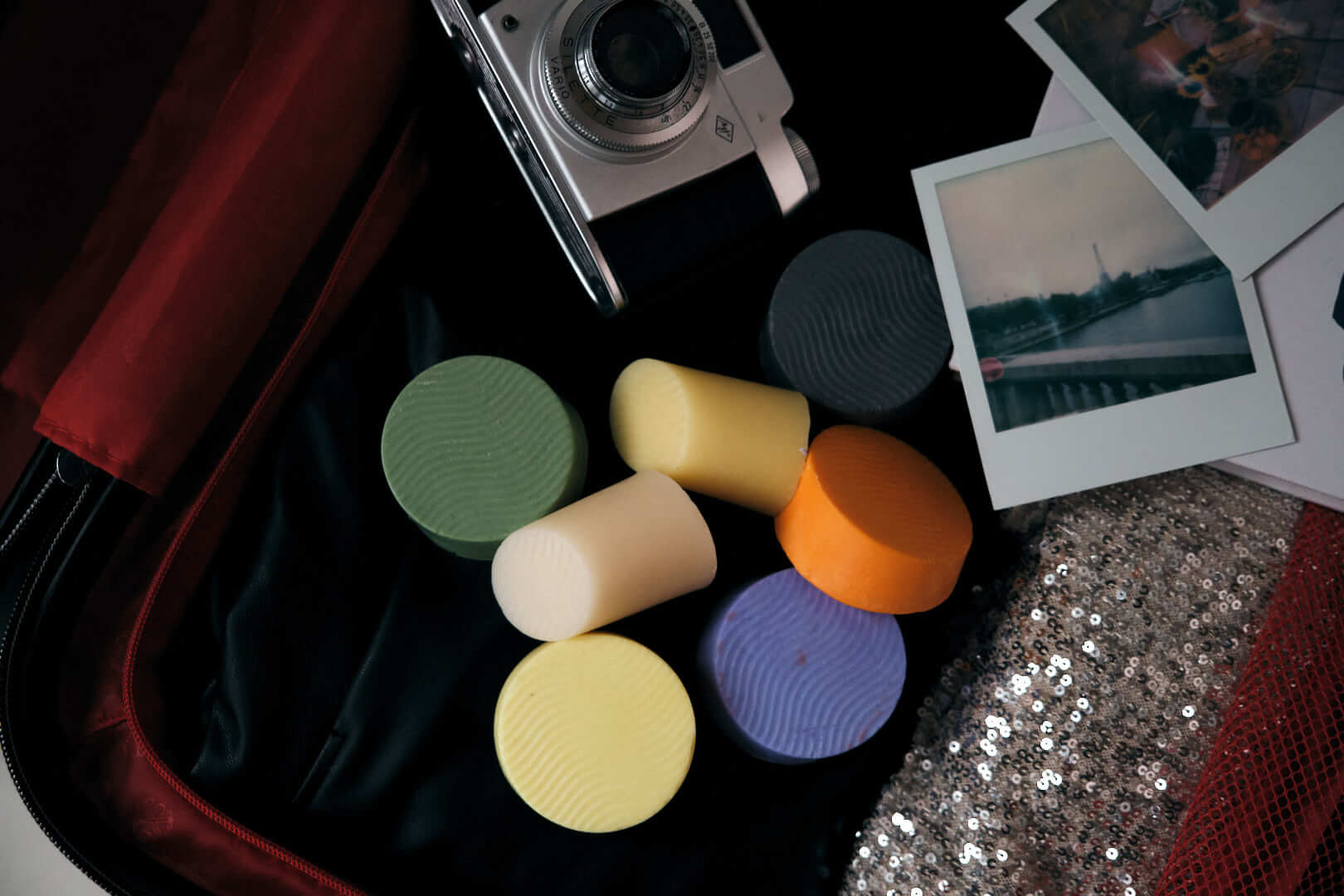 Solid shampoos – Stimulating black and strengthening green
Over time, I had experienced various illnesses and health issues that make me always check whether my shampoo is rich in vitamins, strengthening and stimulates hair growth, as I have to admit that medications have caused me to lose hair thickness. Currently, I choose to use the stimulating black shampoo enriched with black truffle extract, which stimulates division of follicle cells, hair recovery and speeds up its growth. The added black pepper extract helps promote blood circulation in the scalp, while olive oil makes the hair soft and silky. I would like to emphasize that the scent of this shampoo will appeal to those who like the smell of nutmeg and sandalwood. At the moment, this is my favourite!
Sometimes, I also use the strengthening green shampoo to nourish my hair with olive oil, avocado and hemp seed oil enriching the hair with antioxidants. The aroma of this shampoo is extremely fresh, making a walk in Spanish meadows come back to my memory. The green shampoo will take care of restoring the natural shine of the hair, as well as will protect it from damage that can occur, for example, from free radicals. When trying the shampoos, I noticed that the foam is much softer than that of other shampoos, which means that these shampoos will soften hard water and protect hair from dryness and possible damage. My partner likes this shampoo very much. Be sure to recommend the shampoos to your partner too!
What hair types are these shampoos suitable for? Stimulating black shampoo is suitable for dry, normal, and greasy hair, while the strengthening green shampoo will help greasy and normal hair.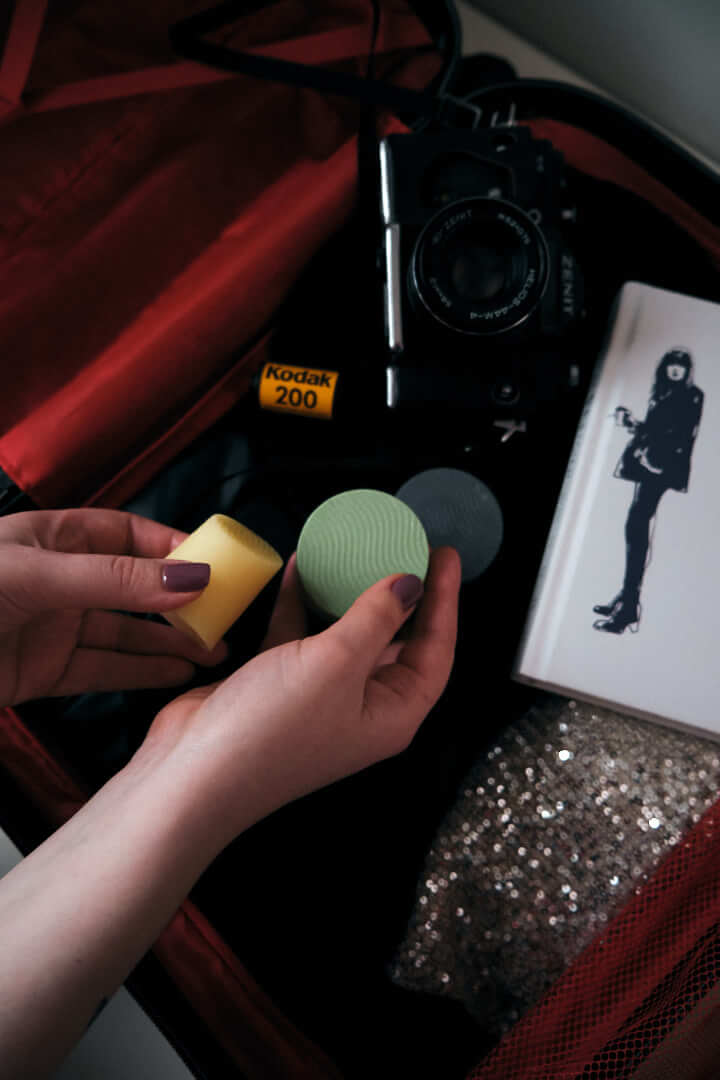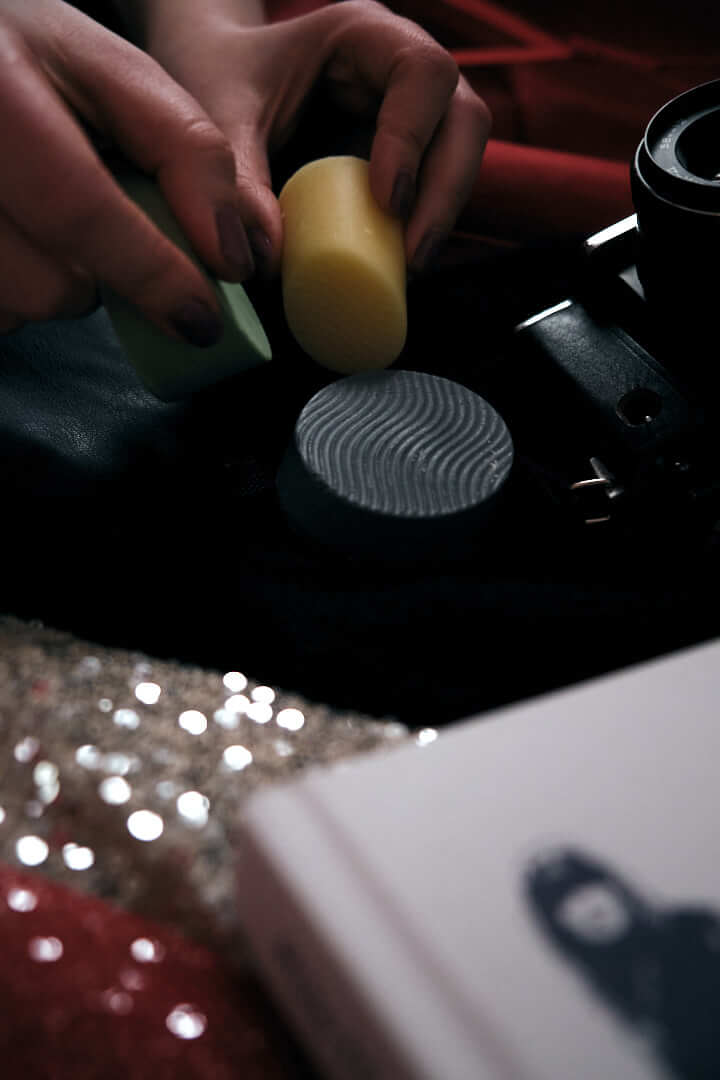 Revitalising orange solid shampoo
If you feel that your hair needs effective, yet gentle nourishment and extra shine, I recommend choosing the revitalising orange shampoo. It is enriched with the strengthening kumquat extract, which will provide a strengthening and toning effect. The added white wine vinegar will take care of nice and natural gloss, while apricot oil will give a boost of strength and elasticity. If you are wondering how to conveniently put the solid shampoo and conditioner on a bathroom shelf, don't worry, because you will get a loofah serving as a pad for the products.
What hair types is this shampoo suitable for? The revitalising orange shampoo will be most valuable for dry and normal hair.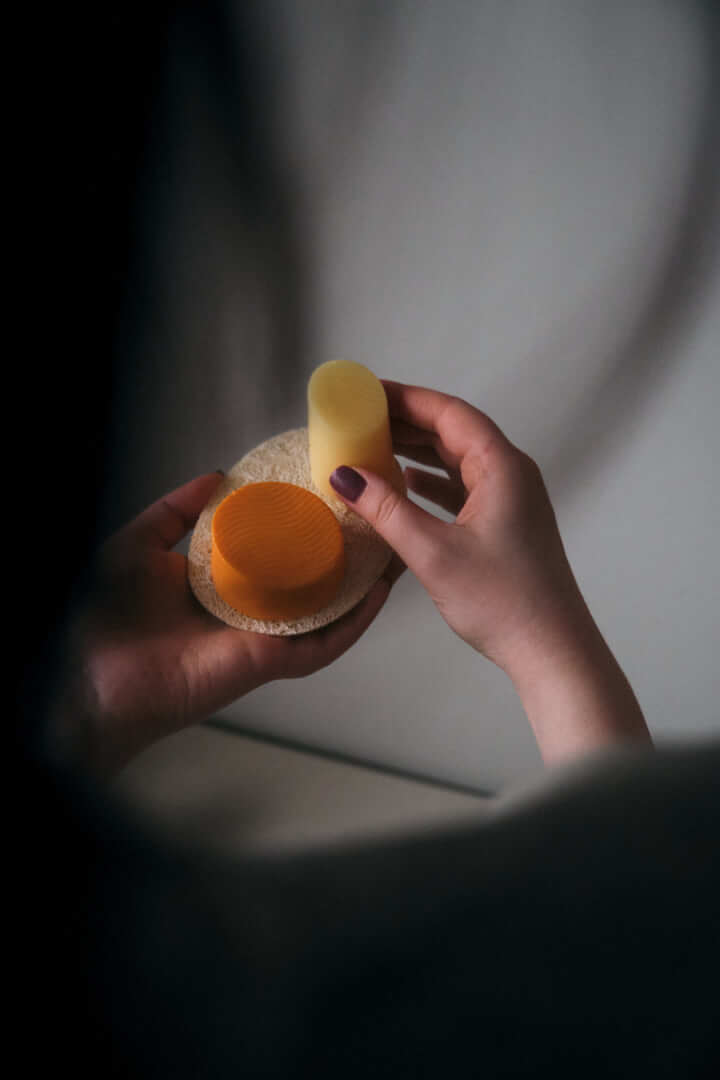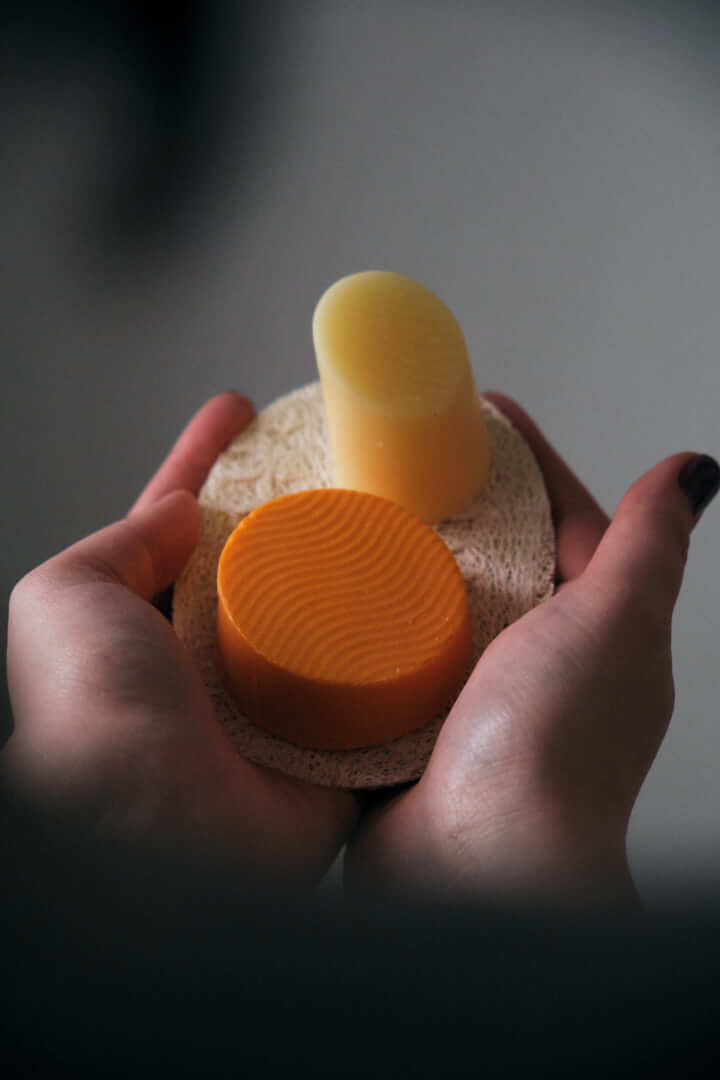 Solid shampoos: balancing purple and moisturising yellow
To be able to balance the health of your hair from the roots to the tips, I recommend you to choose the balancing purple shampoo enriched with clay that will provide a great sense of cleanliness and will not make your hair hard. The shampoo will help deeply purify the roots of your hair, as well as will revitalize it. Mulberry and blackcurrant extracts will moisturise and soothe both your hair and scalp. The combination of scents evokes the memories of warm July evenings when you can smell berries and freshly mown grass in the garden.
If your hair needs to be thoroughly moisturised to also help make it easier to comb, choose the moisturising yellow shampoo bringing back memories of the Far East aromas. This shampoo is enriched with saffron extract, which will provide the hair with mineral substances, vitamins and carotenoids, while the ginger extract and honey will keep the hair wavy, light and moisturized. Rich and valuable ingredients will maintain the delicate balance necessary for hair health and well-being. By the way, shampoos are very easy to use – I massage them into damp hair straight away, do the washing process, and then rinse with water. If this is not convenient for you, you can rub the product in your palms and then apply it on your hair.
What hair types are these shampoos suitable for? The balancing purple shampoo is suitable for normal and greasy hair, while the moisturising yellow shampoo will be the best bet for dry and normal hair.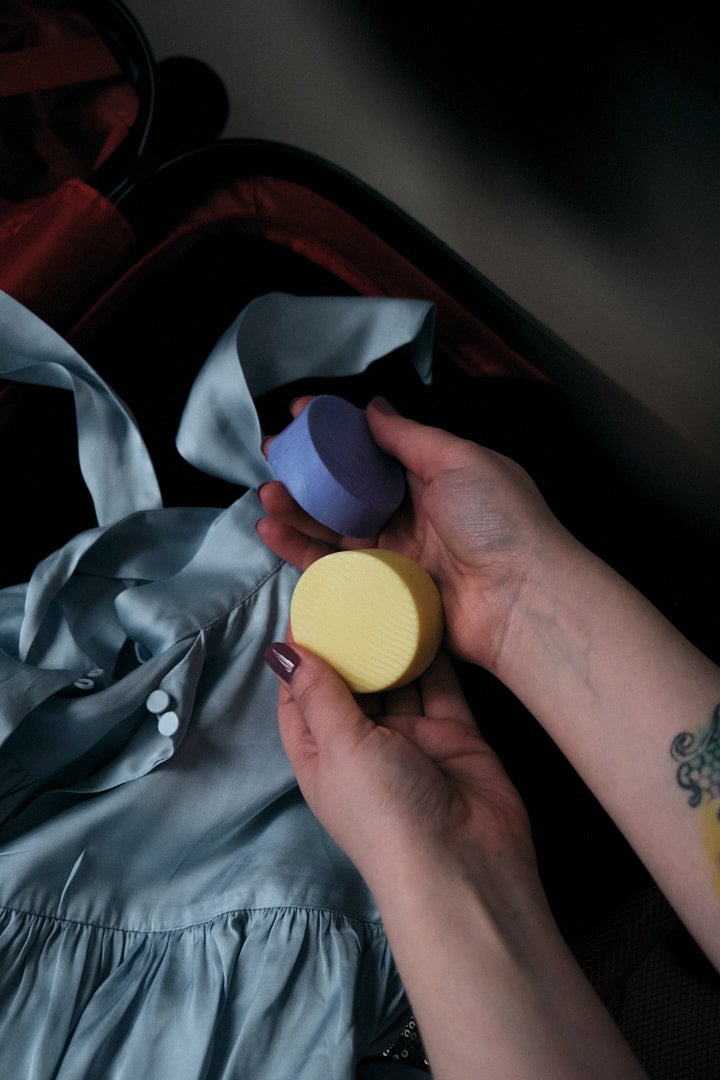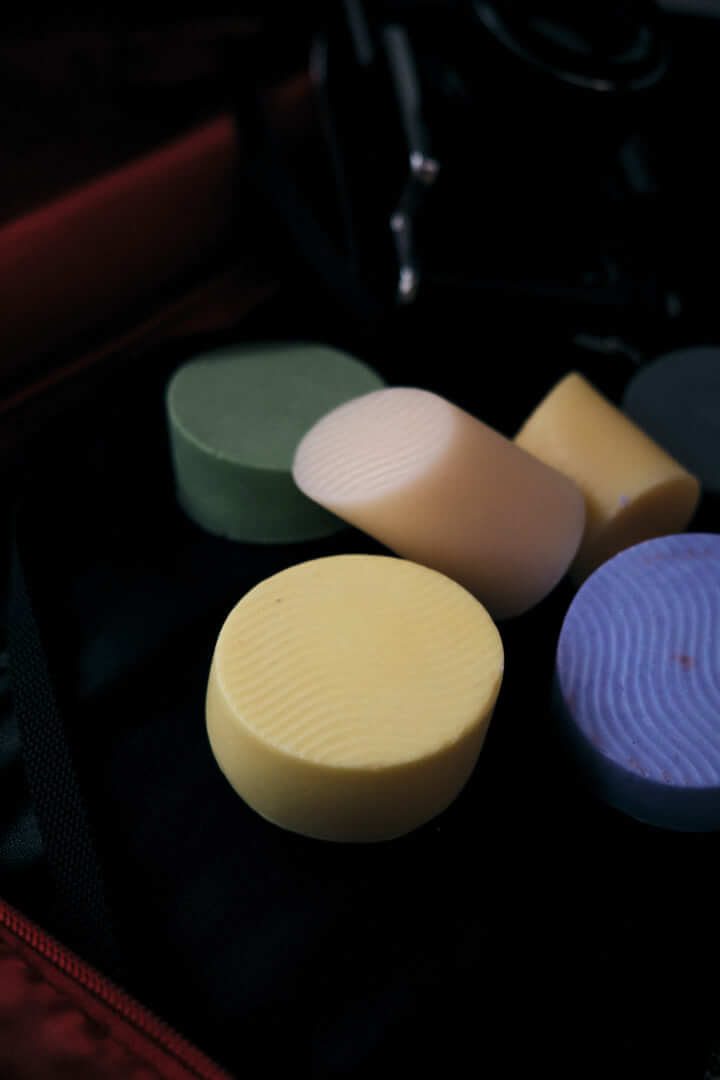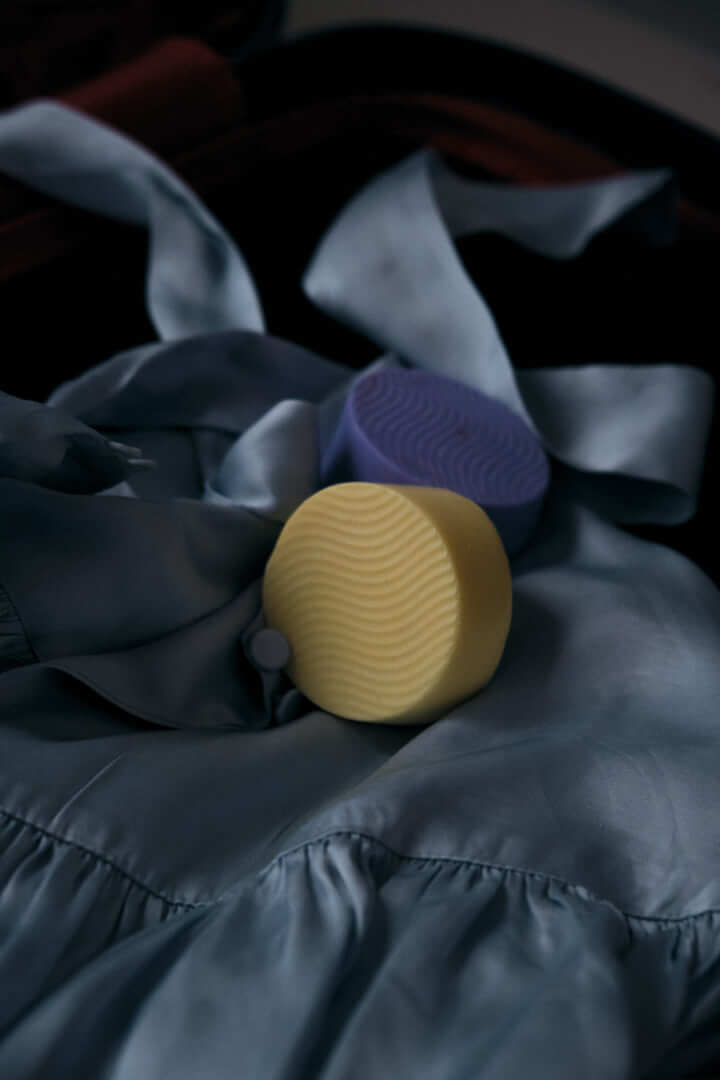 Solid conditioners repairing yellow and nourishing ivory
The repairing yellow conditioner intensively helps hair recover even after being very dry and brittle. Keratin is able to smooth out damages, jojoba oil will restore natural pH balance, while valuable argan oil will moisturise your hair to make it shine. If your hair is unruly and often lives its own life, this could change if you include this solid conditioner in your hair care routine, which will also make your hair easier to comb.
My favourite is the nourishing ivory conditioner, which fits perfectly with my current favourite shampoos. Already after the first use, my hair felt nourished and it was easier to style, but after 3 washes, I noticed that the combination I chose was also a great source of natural shine. This conditioner contains coconut oil, which will prevent hair splitting, and cocoa butter, which will soften and nourish your hair. I was very pleased that the scent was not very sweet, but gentle and unobtrusive.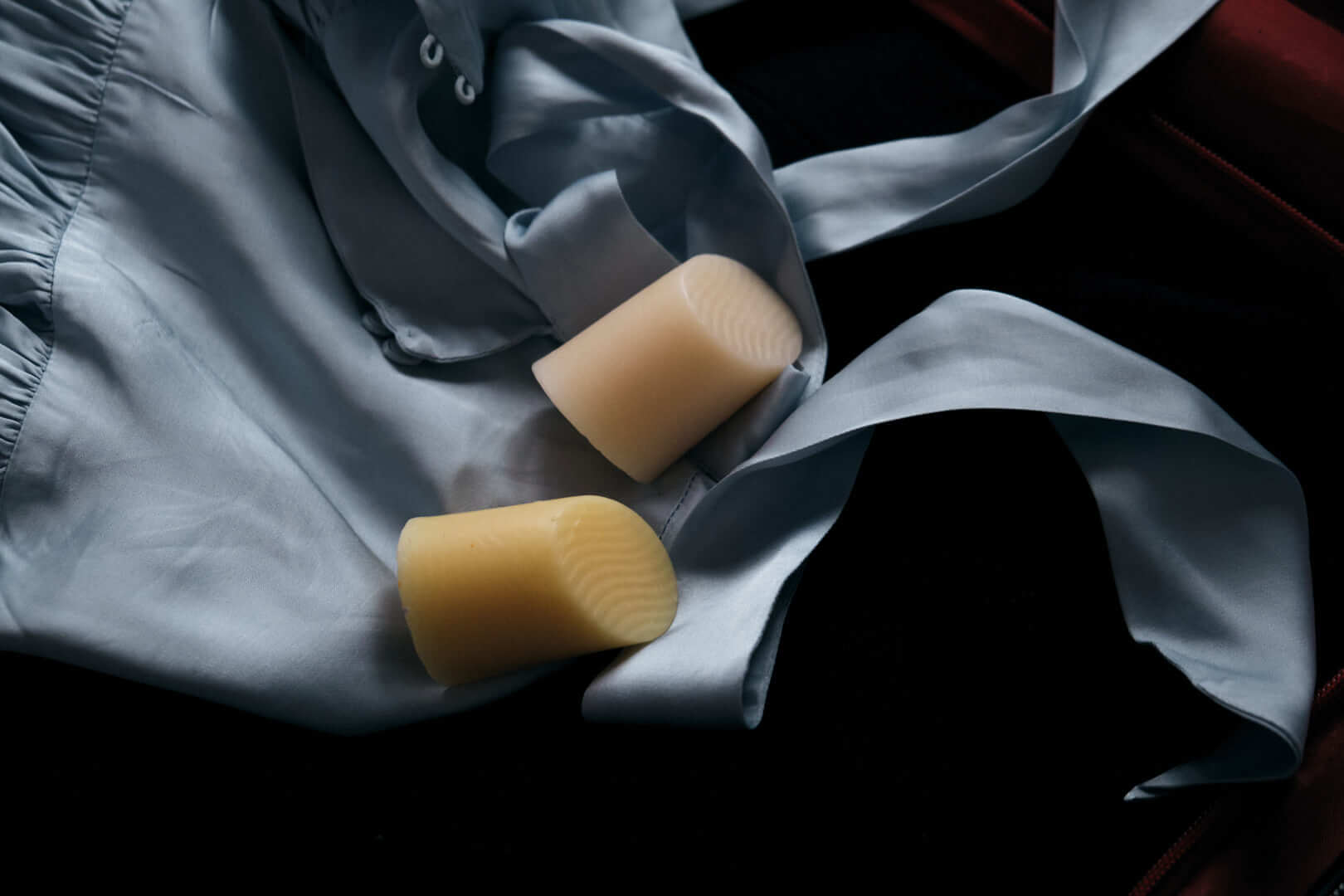 If you too want to use sustainable beauty products that are friendly to nature and to you in your daily routine, I suggest you try STENDERS solid shampoos and conditioners. Don't forget that almost every choice we make affects nature and the environment around us, so I invite you to be careful. The new products are already waiting for you! Which ones do you think will be your favourite?
« Back
---