About skin moisturizing
Your skin is smooth, firm, and elastic, with no deep wrinkles and has a healthy color - because it is adequately moisturized. Your age is being told by your personality but only those closest to you know about your skin type. The secret of your youth - moisturizing.
To your skin look good, to successfully cope with one of the major challenges - water conservation. Living cells exist only in the aquatic environment. Lack of water slows down the metabolic processes - dry skin to recover more slowly.
In the visible layer of the skin – epidermis, there are no blood vessels and that is why its hydration is dependent on:
how much water does epidermis receive from the derma (middle layer of the skin),
how intensely does water vaporize from the surface of the skin? You know, how good your skin feels and looks after a walk in the rain or a humid forest.
Derma has its own water supply network. Water soaks through the walls of capillaries in the dermal intercellular space, forming a gel, which holds water like a sponge. The excess water slowly makes it to the surface of the skin by being absorbed by epidermis. Hypoderm (the deepest skin layer) - intermediate layer of fat that wraps your body like a gentle cloak – saves the skin from loss of water.
In order to keep a balance between the vaporization of the water and reception of it from blood vessels it is important to moisturize it reasonably. In case of an intensive moisturizing skin can swell just like after a long swim. Still skin mostly suffers from insufficient moisturizing.
There are several reasons, why epidermis can't hold the moisture needed for the skin efficiently enough.
genetics,
hormonal misbalance,
digestion problems,
infection diseases,
climate – UV rays, wind, cold etc.
unbalanced diet,
dry air.
You can stimulate skin blood flow with contrast baths and masks, therefore affecting the speed with which skin receives water from blood vessels of the dermis. All you need to do is just moisturize the skin and you will obtain so much – straightening of small wrinkles, the dark circles under your eyes will disappear and your skin will gain an overall lighter tone.
Skin structure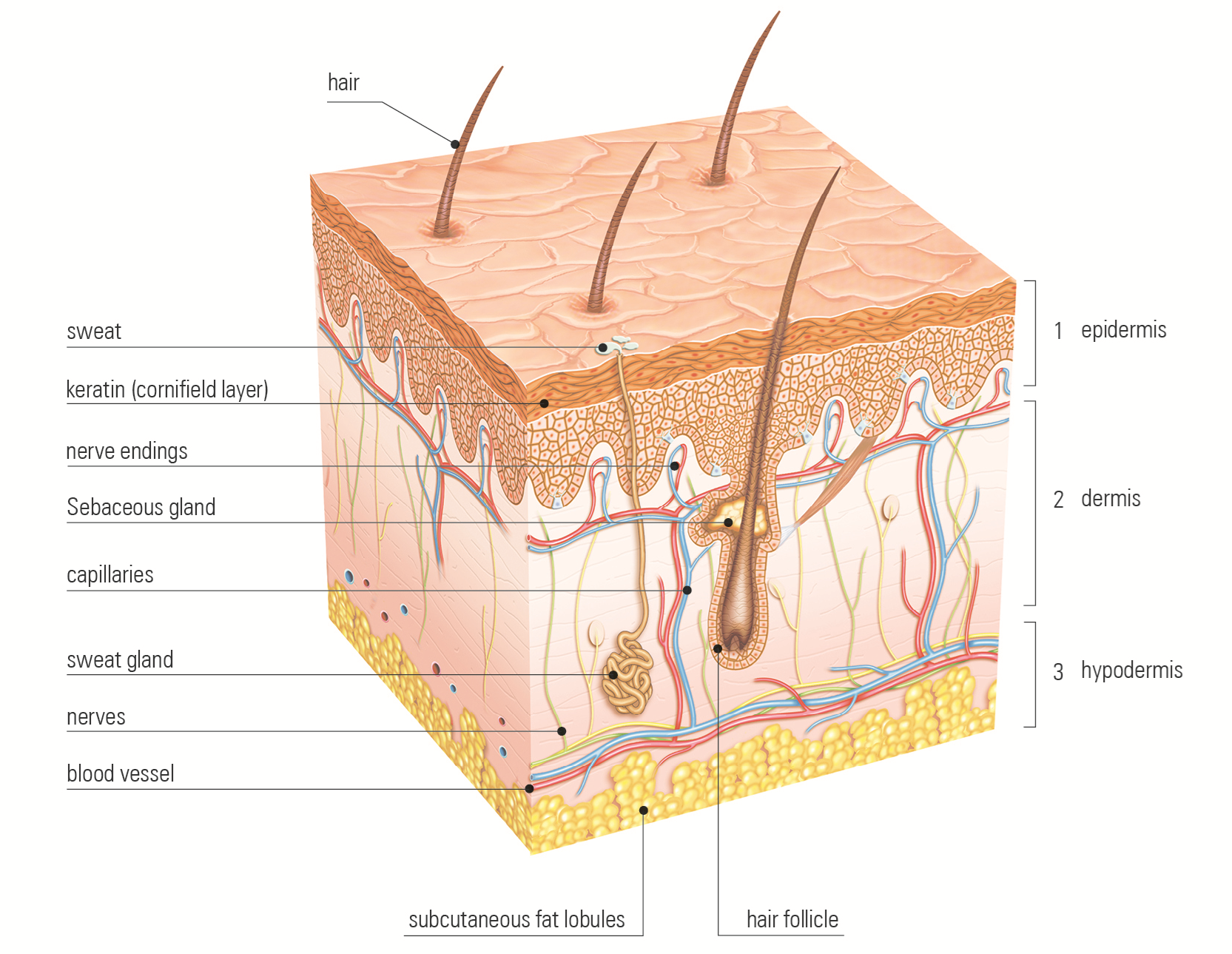 How do you moisturize your skin with the help of cosmetics?
For you to better understand the effect of facial cosmetics, we will tell you about 4 effective ways of skin moisturizing.
In order to hold the vaporization of water from the higher layers of the skin, it is important to cover the epidermis with a gentle, partly permeable membrane. This is ensured by vegetable fats (shea butter, cocoa butter) and natural waxes (bee wax). By adding substances that can attract and hold water molecules (glycerine, hyaluronic acid) effective skin moisturizing cosmetics are created.
Skin hydration is also influenced by minerals (salts). If splashed in the deep layers of the epidermis, the diluted aqueous phase and normalized salt concentration levels. As a result the amount of water is increased. Alga is often used in cosmetics for this purpose.
Restoration of the horn layer lipid barrier
The most common cause of dry skin is the horn layer lipid barrier lesions (epidermis). Horn is the upper layer of epidermis and main protective layer of the skin, also against the loss of moisture. It can be restored with the help of vegetable oils - macadamia, jojoba, grape seed, shea, cocoa, etc.
Protection against free radicals
Free radicals - active atoms or groups of atoms, we receive along with environmental pollution and UV rays. Free radicals lack one or more unpaired electrons, so they attract the whole-cell free electrons that are created in the result of oxidation. This leads to cell damage. The most active components, which protect the skin from free radicals, are antioxidants - tocopherols (vitamin E) and biophlavonides of herbal extracts - ginkgo, ivy, grape seed, green tea, witch hazel.
« Back