About gold
Gold – Aurum in Latin means shining dawn.
Gold is a relatively soft, yellow metal. Gold mining is difficult. Pits are up to 4000 metres deep, where the temperature exceeds +30°C. Gold-containing ore is brought up to the surface, where the gold is leached out of it. Only 5 grams of gold are usually extracted from 1 tonne of ore.
Gold has always been highly valued owing to its beauty and capability to resist corrosion. Due to its relatively soft consistency, gold became the first metal that people learned to handle.
For thousands of years people have been excited about the glitter of gold and valued its positive effects on health. In ancient Egypt, the Pharaohs' wives added crushed gold to baths and body care products. The so-called "gold water" was very popular in medieval Europe. Alchemists tried to unravel the secret of how to transform any simple metal into gold. At those times people considered gold as the perfection of all things and believed that it is able to balance the human body, soul and spirit.
Until this day no other metal measures up to the standards of beauty, purity, exclusiveness and potency the way gold does. Gold symbolises the highest achievements – Olympic medals, Oscar award statuettes etc. Gold plays a significant role in our society – people desire to get a hold of it and take pride in succeeding to do so.
About colloidal gold
Combining state-of-the-art technologies and treasures of nature, gold has been obtained in a form which gives much more efficient results than in previous centuries, when it was just crushed and added to water.
In present-day cosmetics 24-carat colloidal gold is used – it is 24-carat gold pulverised to the size from 1 up to 1000 nanometres, resulting in a colloidal solution. Particles of this liquid gold are enveloped from all sides by a spherical layer of natural lipids – soy lecithin, which serves as an agent for transporting the gold into the deeper layers of the skin.
One of the main functions of the skin is to protect the body from the influences of external environment. Thus the epidermis – the outer layer of the skin – does not let substances applied on the skin penetrate through it. To solve this and deliver the valuable gold atoms to the deeper layers of the skin, colloidal gold is put into liposomes – spherical fat molecules. Through the minute openings in the epidermis they are capable of getting into the dermis to participate in the skin cell regeneration process.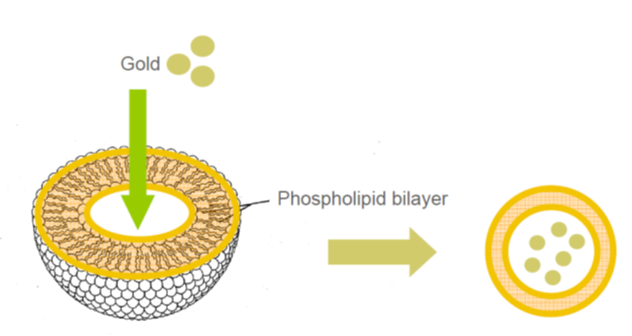 Components shared by all STENDERS gold line products
Components
Effect
24-carat colloidal gold

Cosmetic effects of gold particles: they

stimulate and improve skin tone,
promote skin suppleness,
ensure long-term moisturising,
prevent premature ageing, maintaining the skin youthful,
give the skin vitality.

Pomegranate extract

Extracted from pomegranate fruits that are rich in natural acids, potassium, and phosphorus.

Pomegranate extract contains tannins – natural antioxidants, which fight free radicals that the skin catches from UV radiation and environmental pollution.

Cosmetics with pomegranate extract promote skin cell regeneration.

Exquisite designer aroma
Exquisite designer aroma leaves a fine bouquet of scents on your body. It creates a feeling of exclusivity and a festive mood.
Does not contain parabens and silicones.
« Back
---