100% Natural Products for Effective Massage
100% natural horsehair and sisal gloves and sponge for an effective massage in shower, bath and bath rituals as an essential stage in an anti-cellulite programme.
100% Natural Horsehair Massage Glove, Black
00% Natural Horsehair and Sisal Massage Glove, White
100% Natural Horsehair Sponge-pad, Black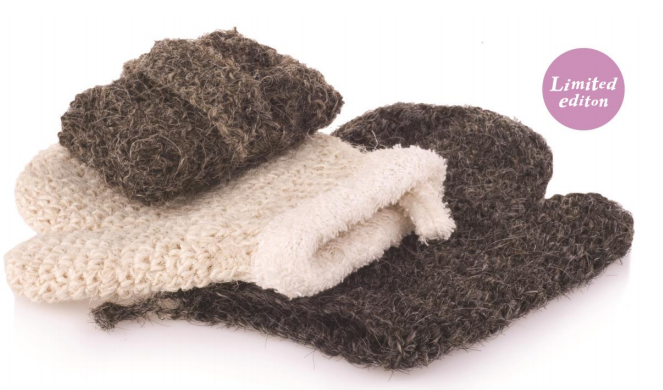 About massage gloves and sponge
The basic structure of both human skin and horsehair is made up of the protein keratin. Therefore horsehair products ideally match any skin type. Unlike majority of synthetic materials, they will not irritate your skin.
100% natural horsehair durability guarantees that these massage products will serve you for a long time.
High quality massage gloves and sponge were hand-knitted by country women of Colombia, who received a fair and honest pay for it.
About massage
By massaging your skin with 100% natural horsehair and sisal products, you enable reproduction of keratin cells and therefore obtain a firmer, younger and healthier skin. It will be much easier for your skin to heal the damaged cells.
Intensive massage enables circulation of blood and smoothens the layer of fat beneath your skin. Thus 100% natural massage products are an essential stage in your anti-cellulite or weight-loss programme (+ an active life style and a healthy diet).

These 100% natural massage products stimulate lymph drainage.
After the massage your stress-strained muscles relax, giving you additional energy at once. You have more strength in the evenings and more liveliness in the mornings.
After the massage your metabolism and cell regeneration become active. It plays an essential role in general improvement of your health.
Application: In order to prepare your skin for massage we recommend to take a warm shower or bath, or go to sauna for a short time. When your skin becomes softer, dampen your massage glove or sponge and massage your skin with light movements.Pay special attention to your problem zones.

For a cleansing everyday massage foam STENDERS soap, shower gel or shower souffle on the glove or sponge. Remember to moisturise your skin afterwards! Once every 1-2 weeks thoroughly cleanse your skin with STENDERS skin-scrub and enhance the effect with a massage glove or sponge. Also, use 100% natural massage products with STENDERS bath honey!
After use carefully wash the gloves and sponge by hand, so that they retain quality as long as possible. As a result of intensive and lasting use and high humidity the massage gloves and sponge can change their form, because they are 100% natural.
« Back